April 2015
Mammoth ship transport
It took two days and nights for Prangl to transport a tour boat from Ennshafen to Steeg on Lake Hallstatt.
City:
Ennshafen – Steeg/Lake Hallstatt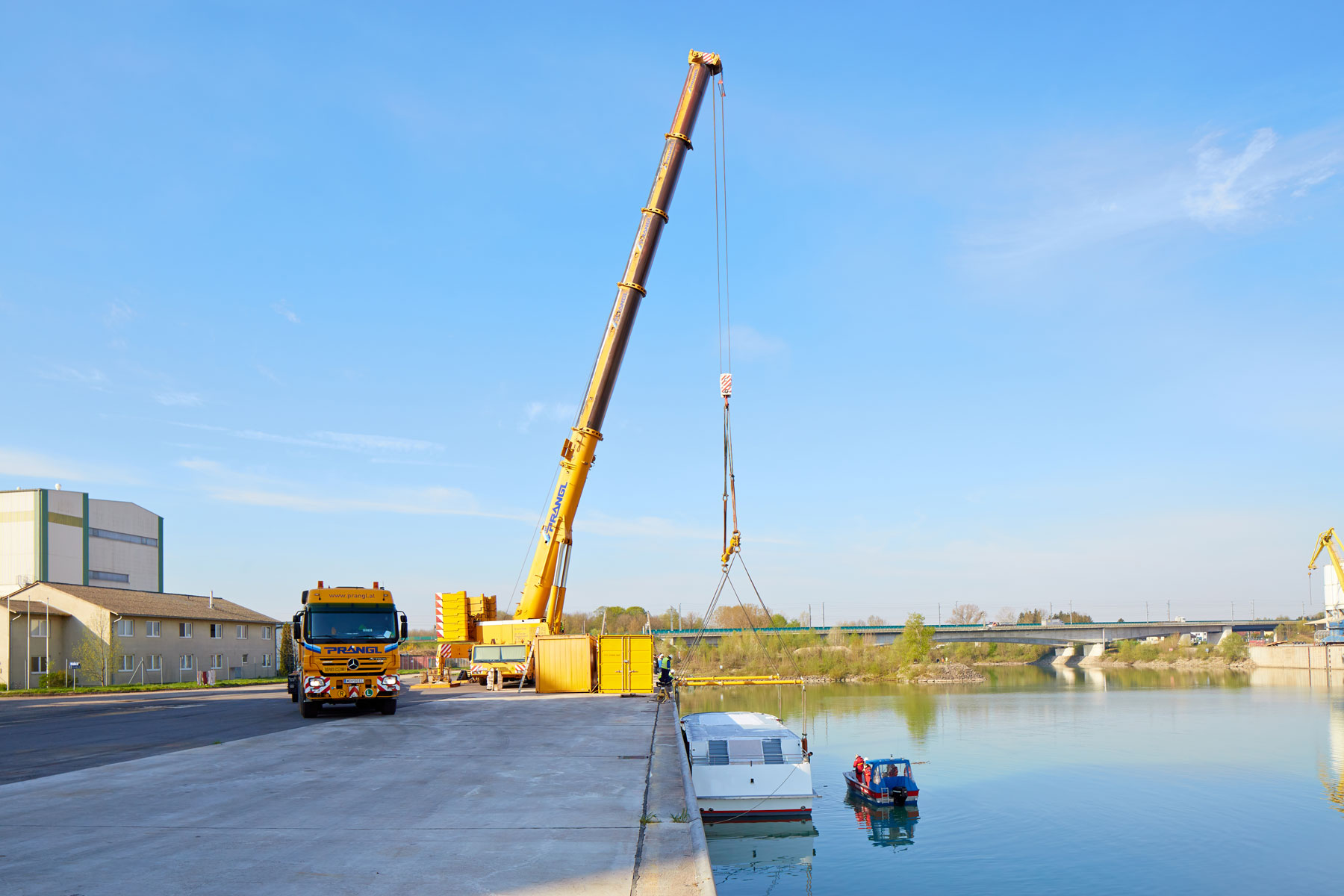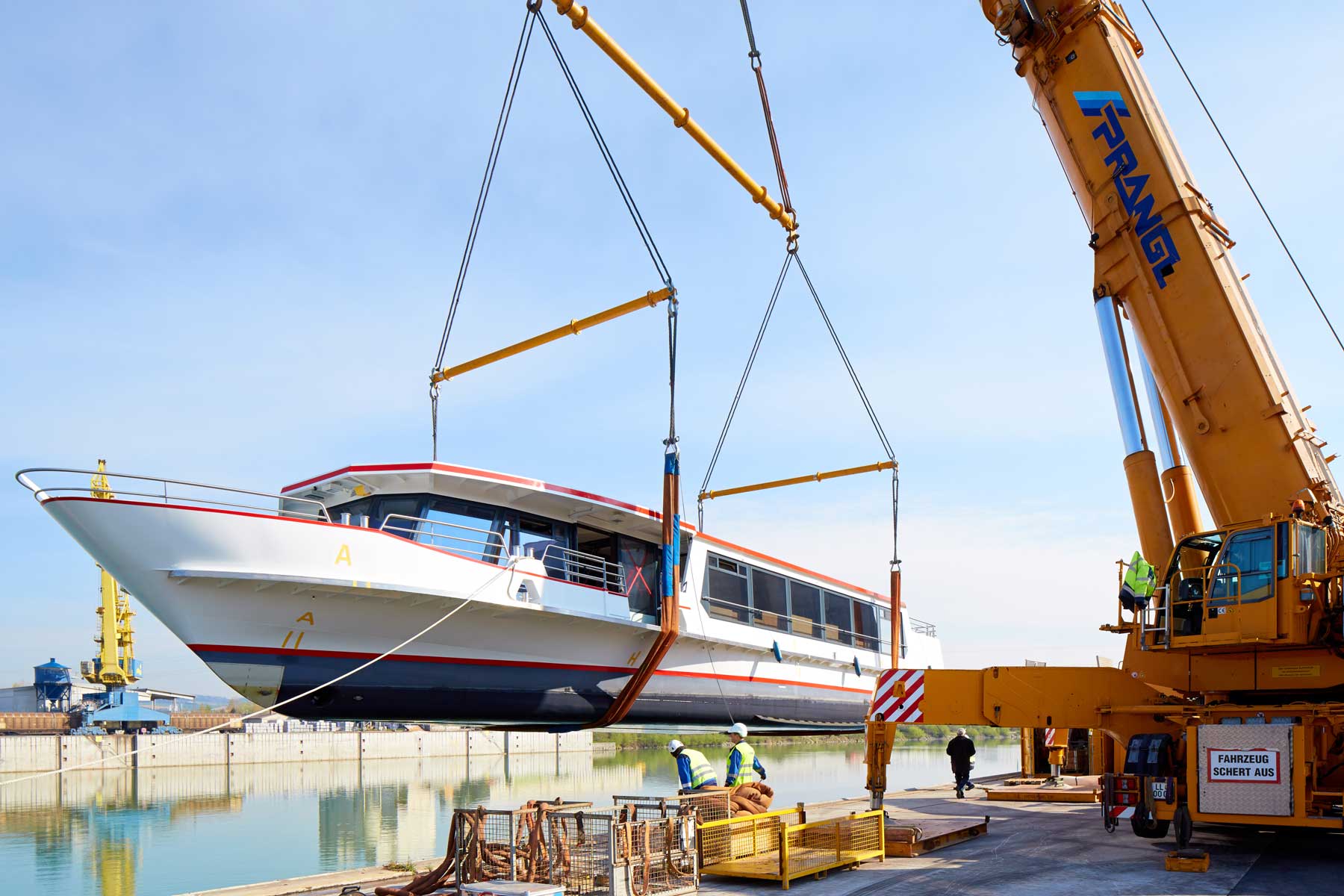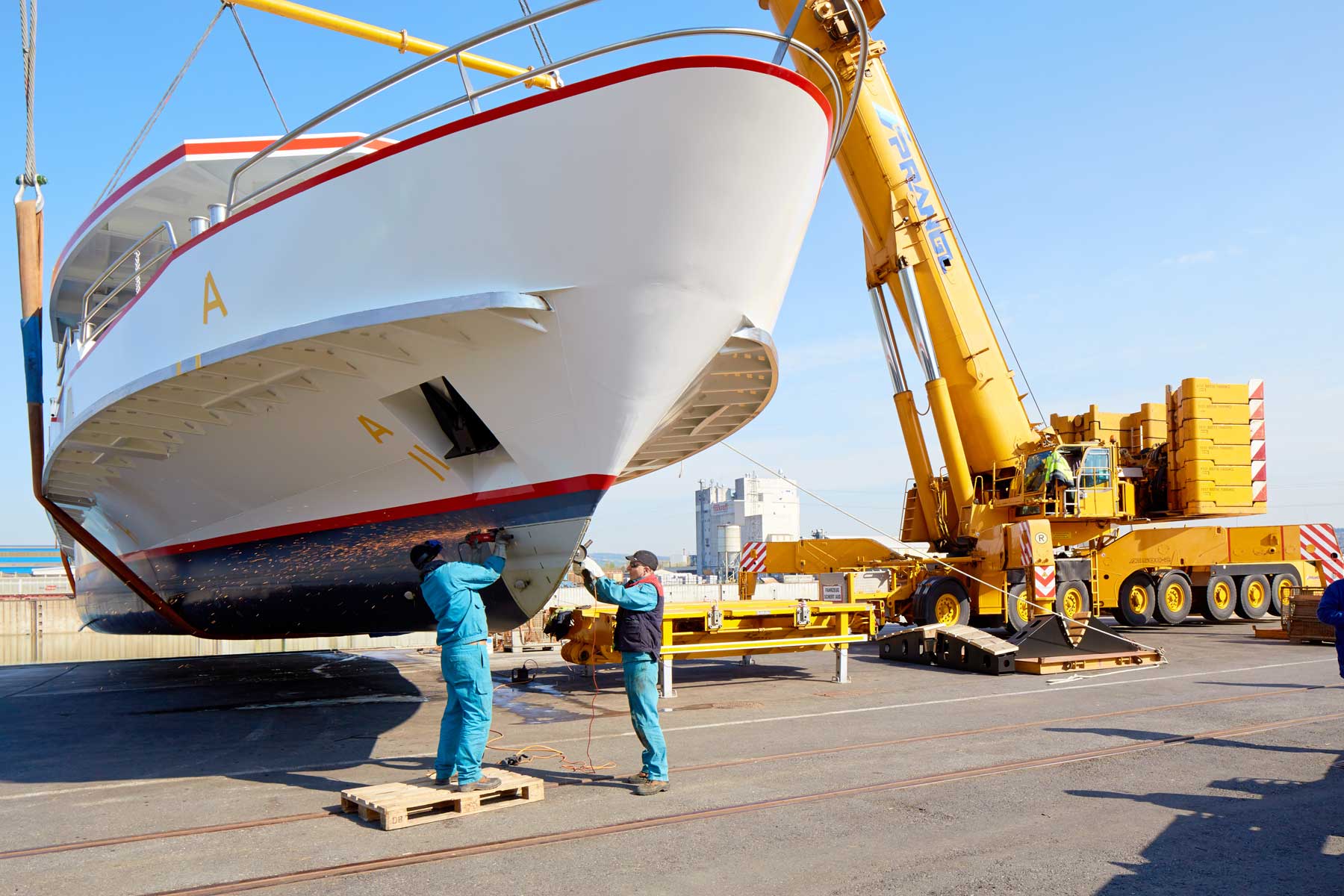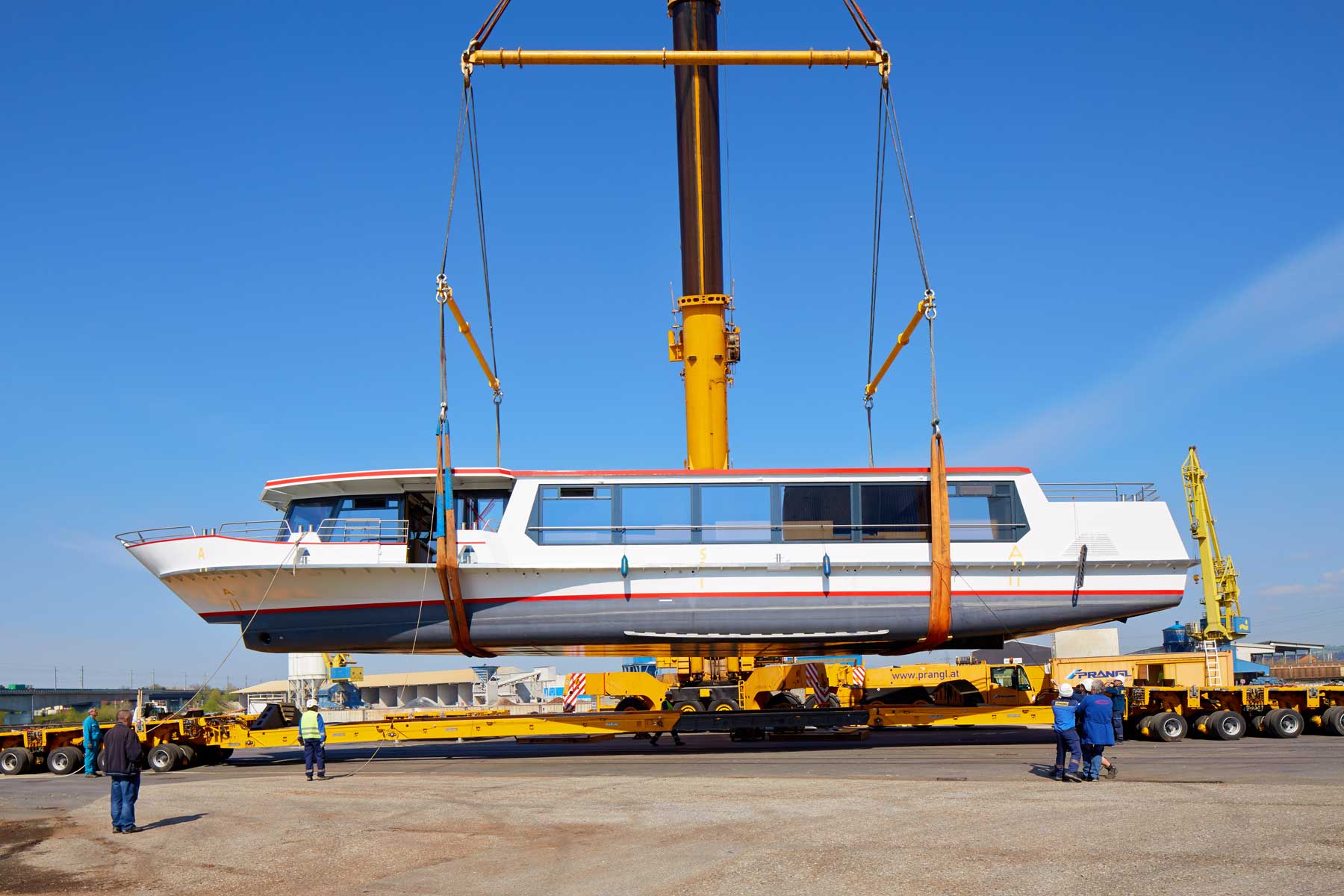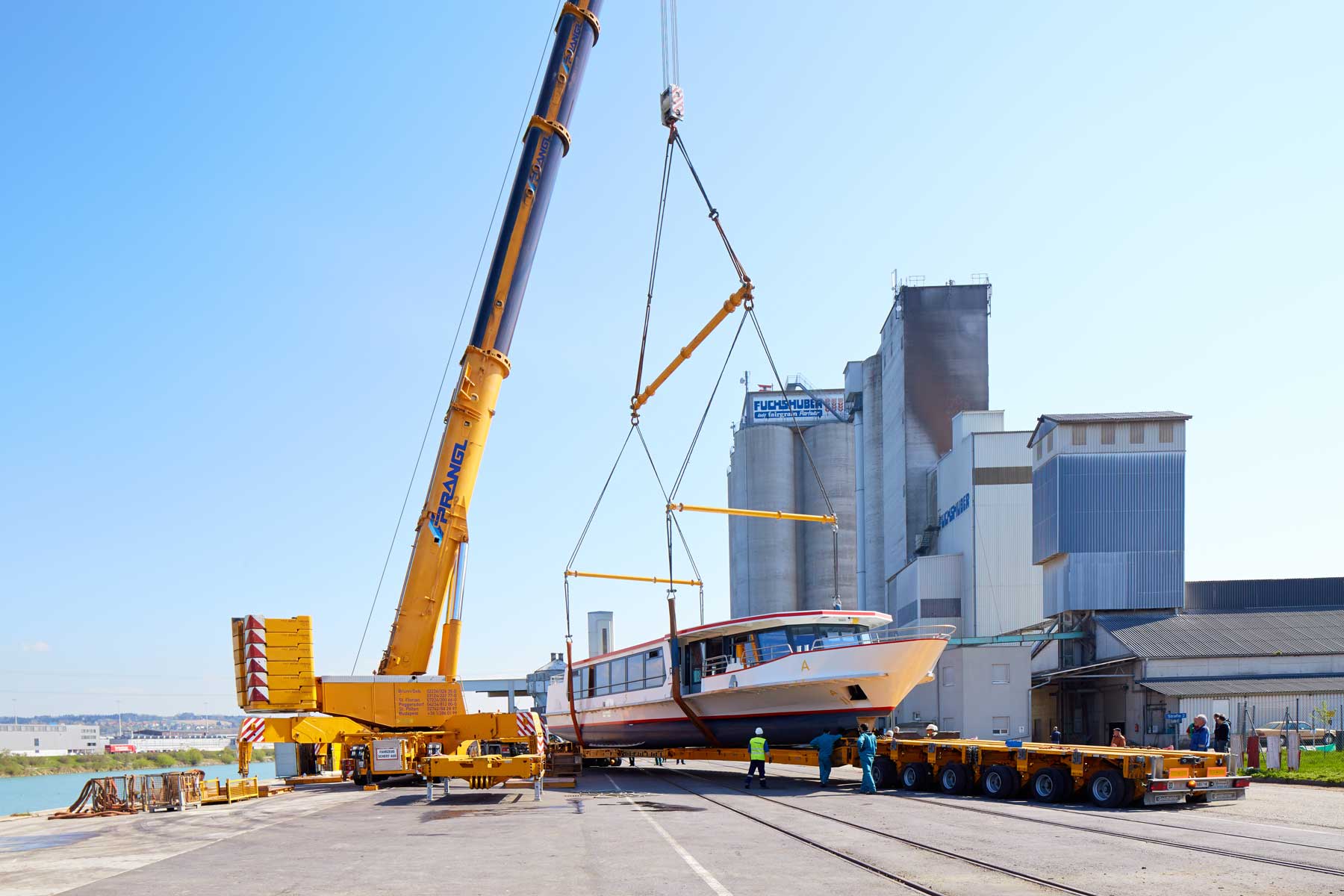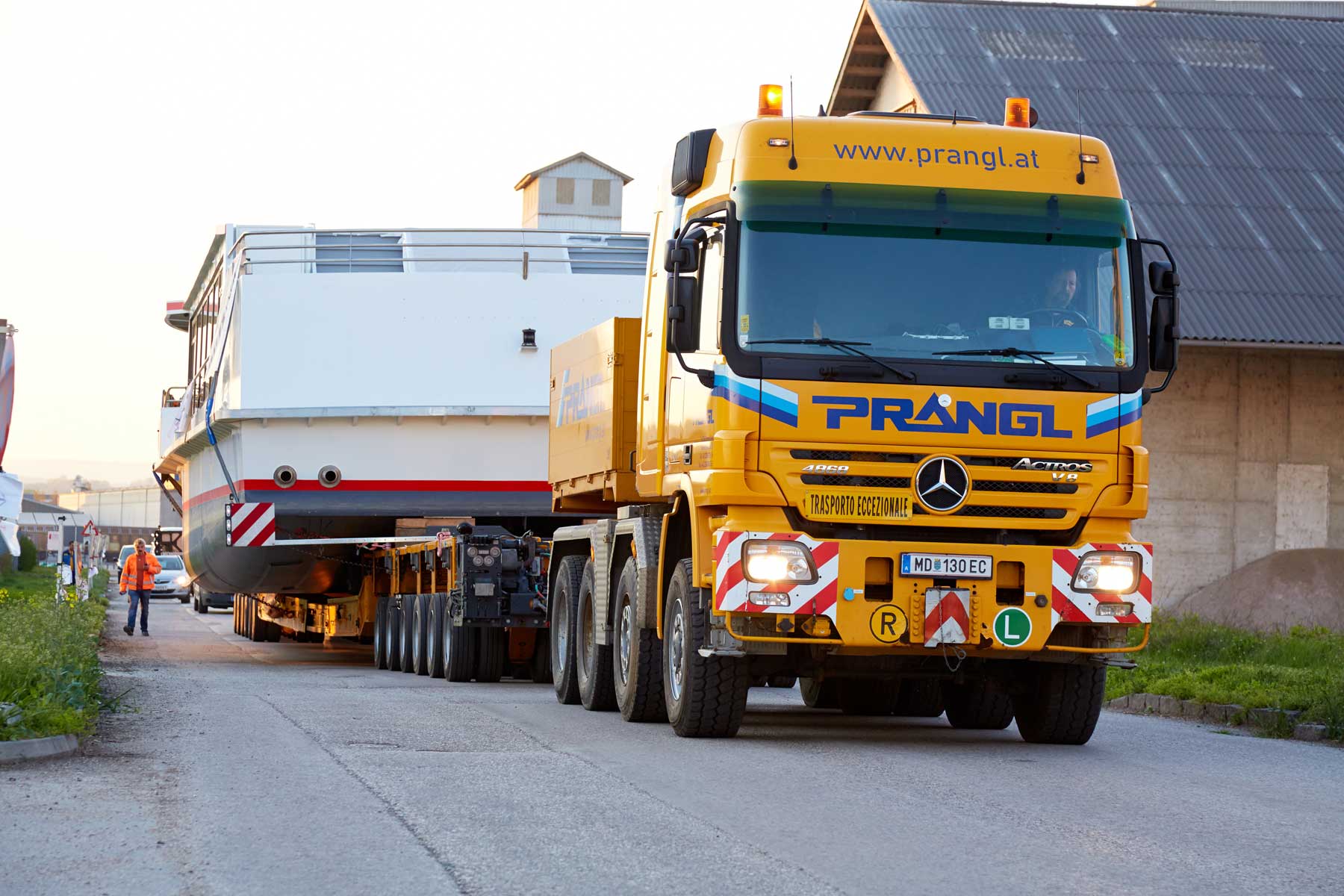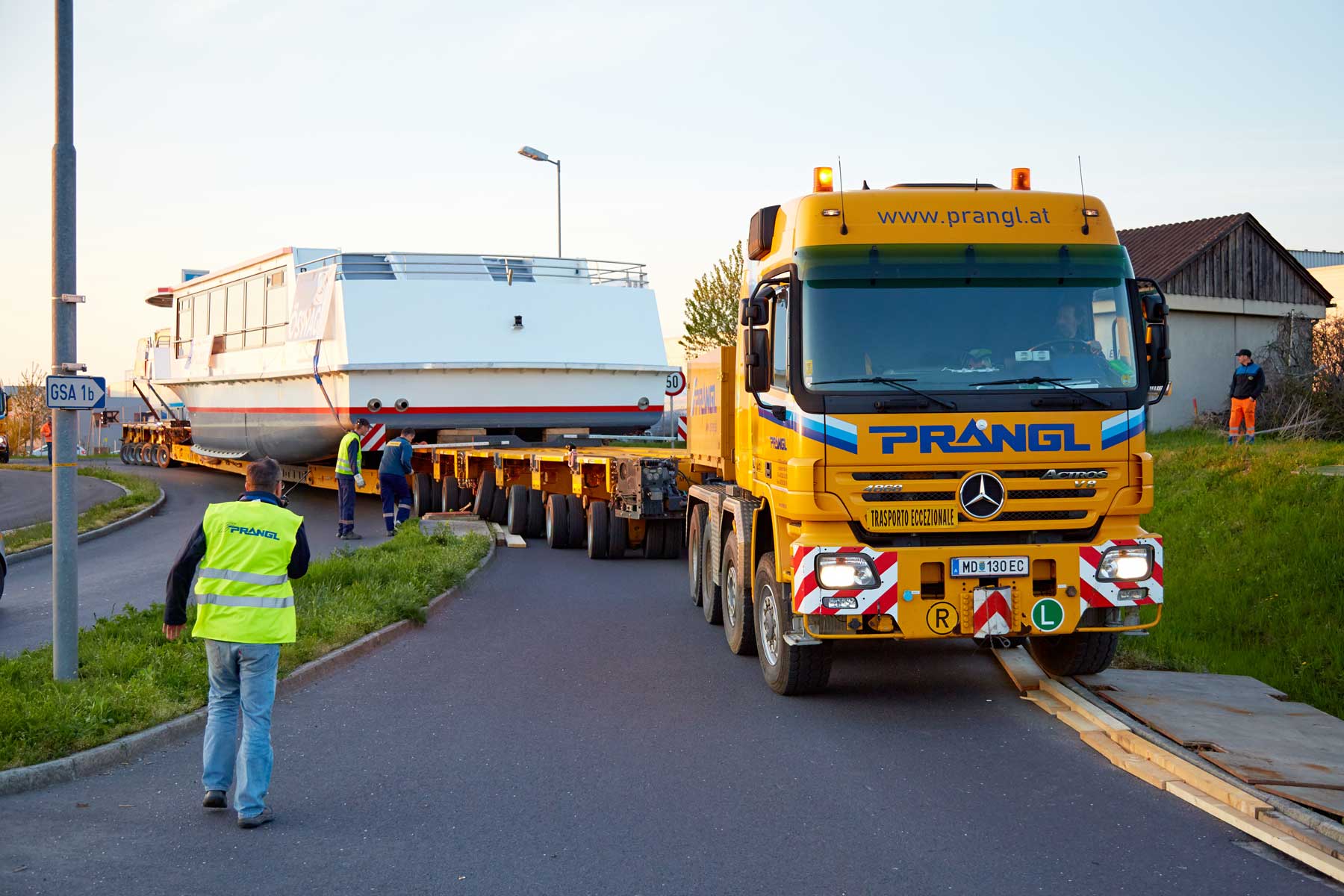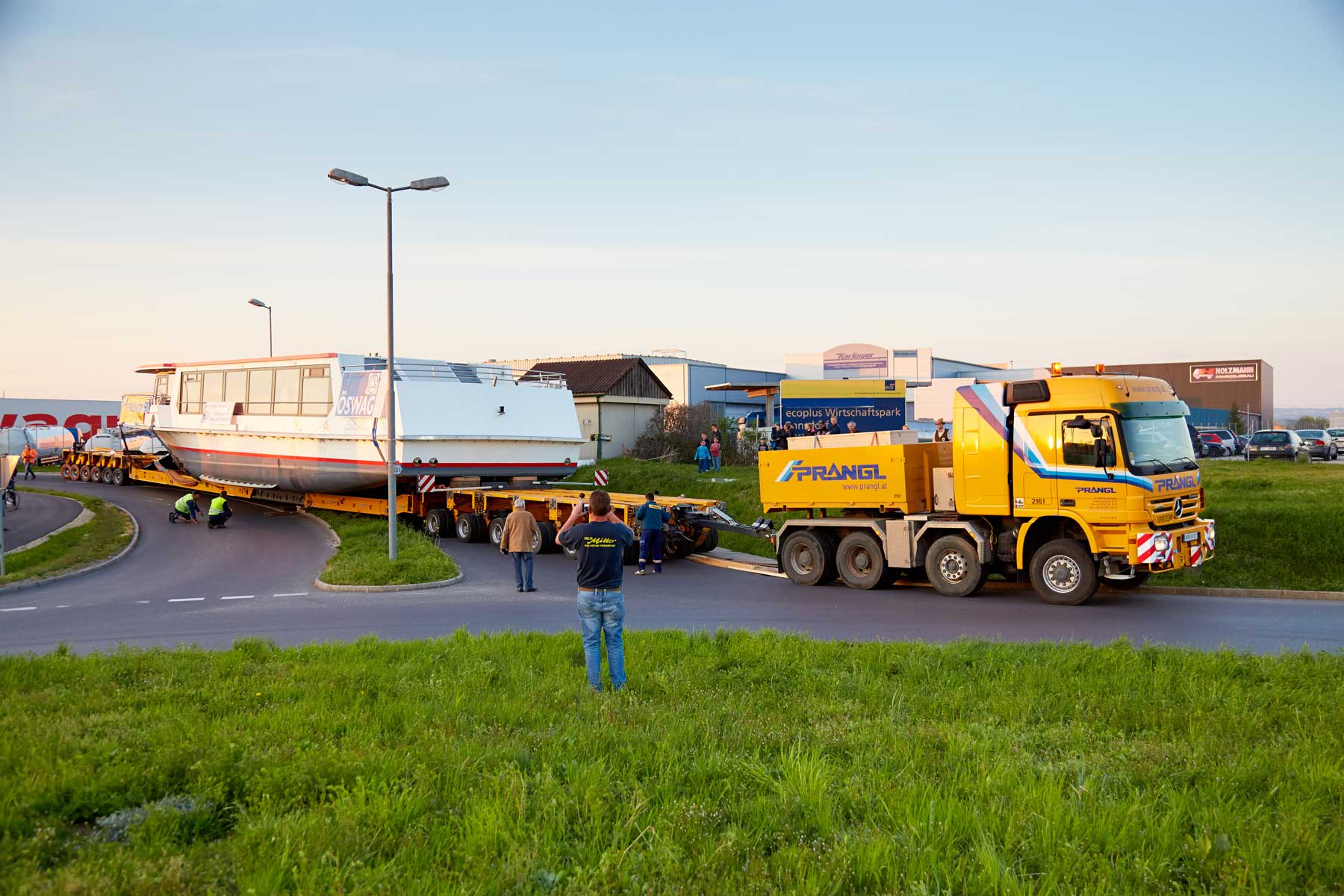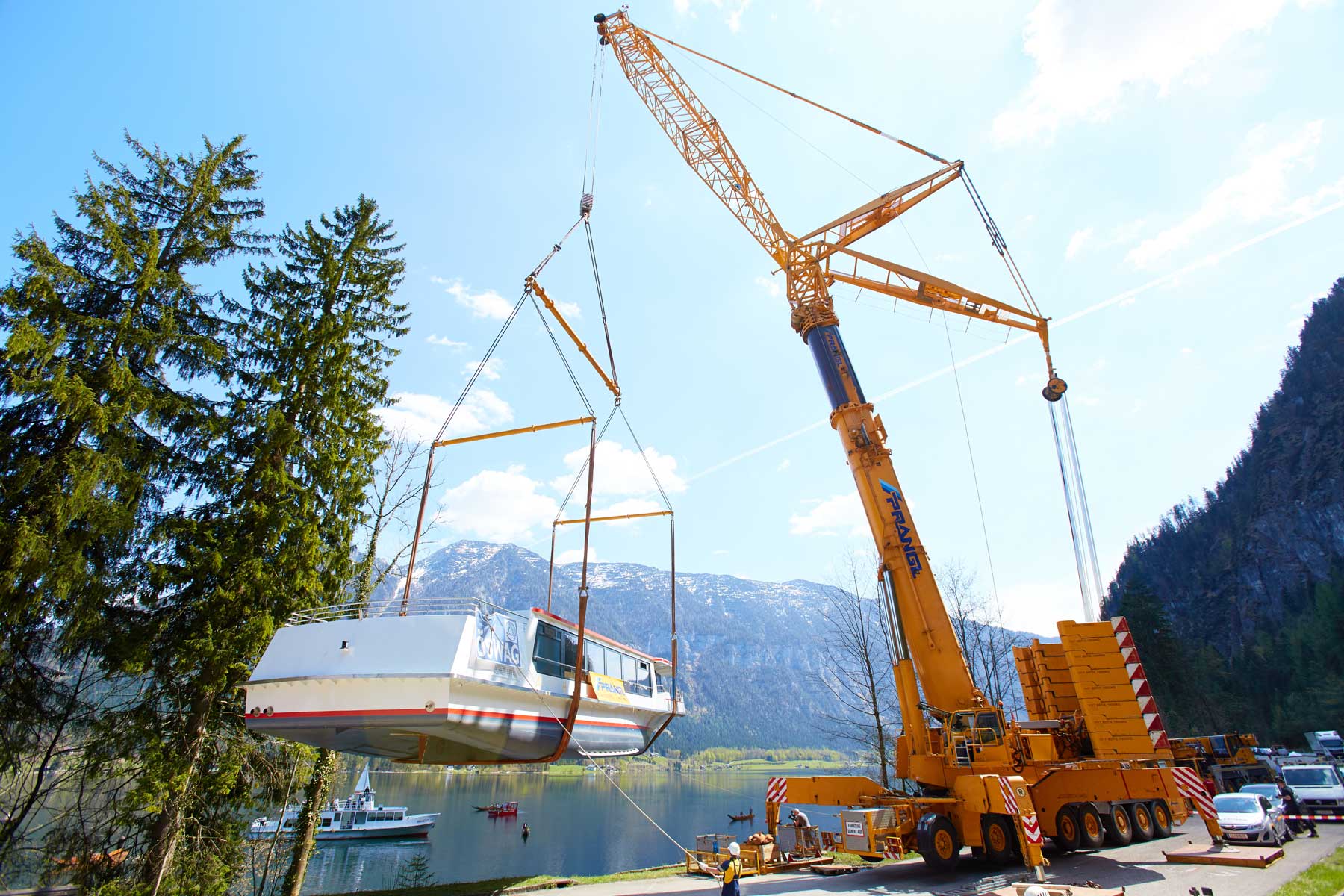 The challenge
Performing logistics and transport
The Hallstättersee-Schifffahrt company has a rich, 47-year cruise ship tradition on heavenly Lake Hallstatt. Now the fleet was being expanded with another ship. Since moving freight that large is a huge challenge, the company relied on the experts at Prangl. Performing the logistics and transport was also left to Prangl.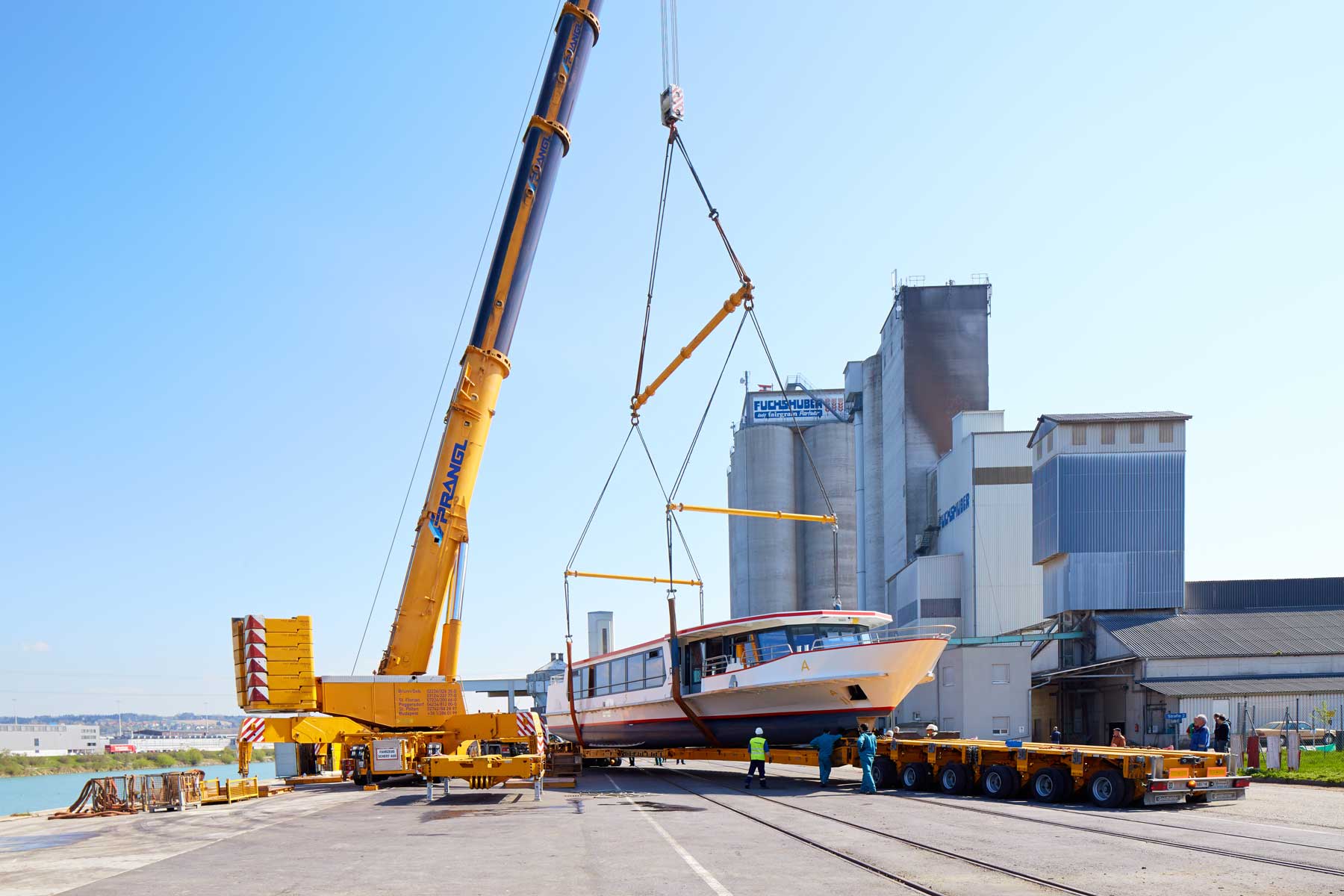 Loading the heavy cargo
First the hull (27 metres long, 7 metres wide, 4.19 metres tall, and weighing 66 tons) was towed by water to Ennshafen, where it was awaited by a 500 tonne telescopic crane. Its job was to carefully and precisely lift the tricky item onto a special heavy-duty flatbed truck standing at the ready. The transport unit weighed 176 tons, altogether, and measured 58 metres long, 4.70 metres high and 7 metres wide. The smaller upper deck of the ship (7 metres wide, 10 metres long, about 4 metres high and 10 tons) was transported from the plant and moved on a semi-trailer directly to Ansfelden.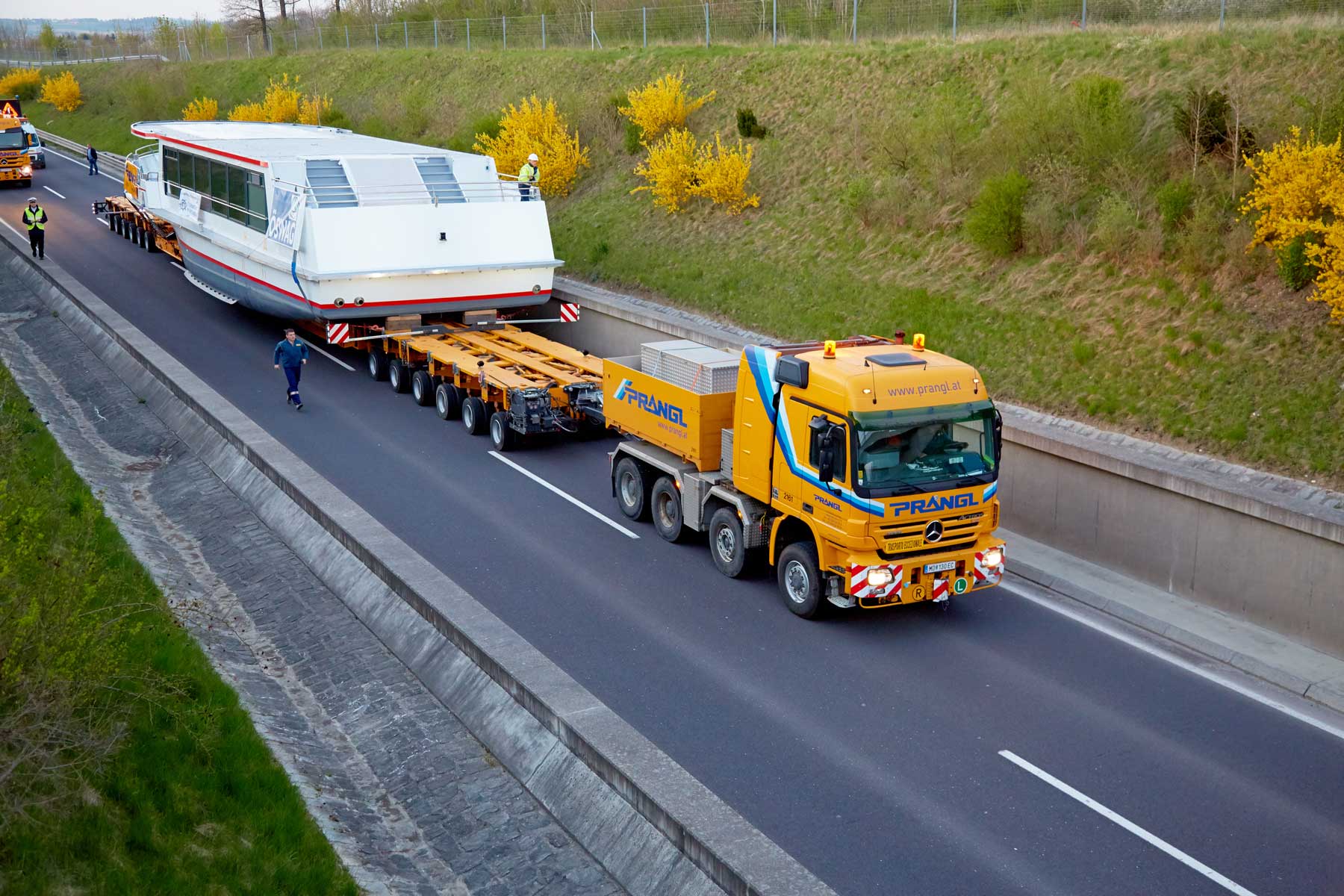 Abnormal load en route in convoy
In Ansfelden, the hull and upper deck transports met and formed a convoy from that point on. The destination for the first leg of the transport was Golling – a journey to be completed entirely by motorway. Because of the flatbed truck's load height, the bridges on the motorway required high-precision work. When moving through, the rig had to be lowered on hydraulics to allow safe passage. Many of the bridges could only be moved under at walking pace.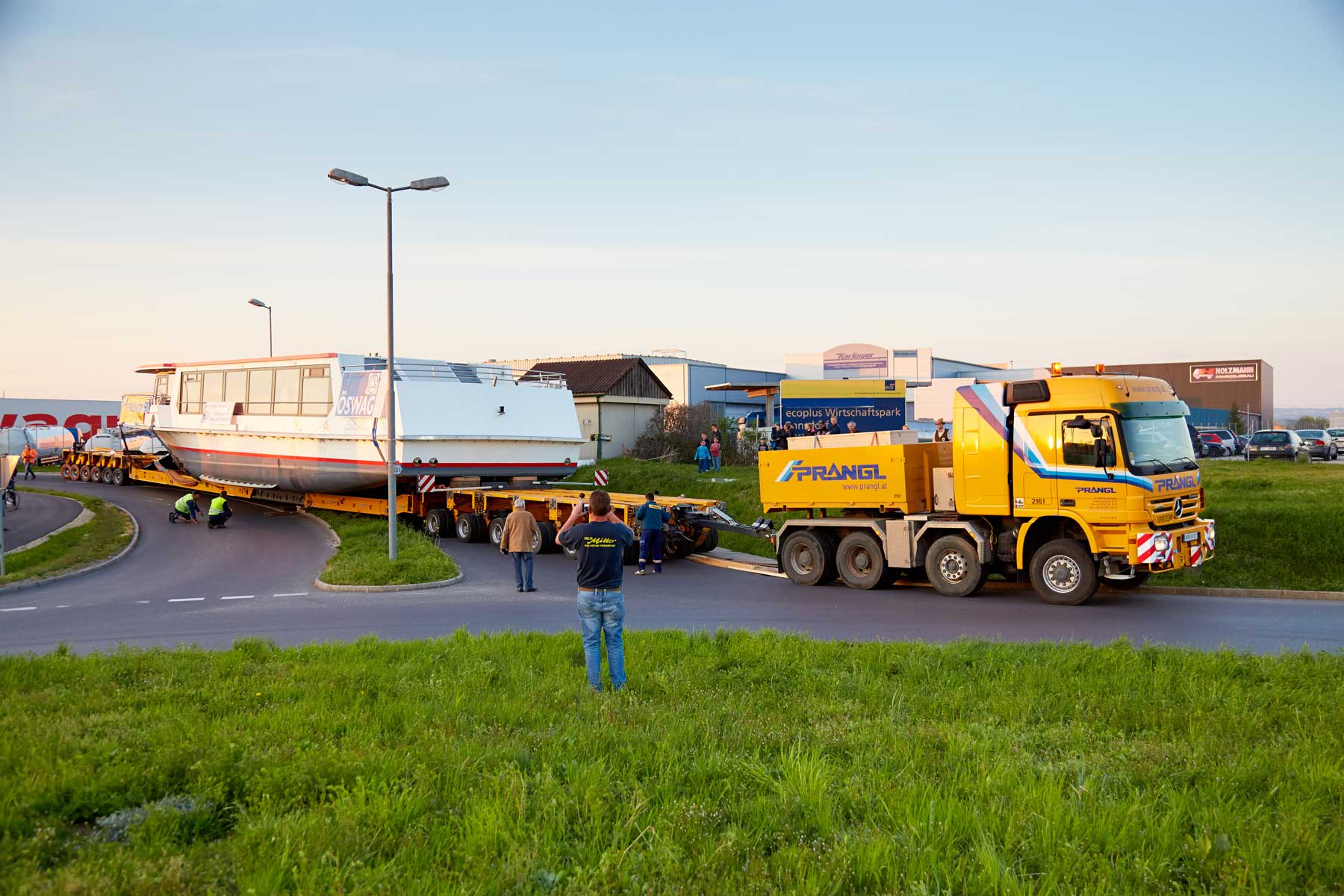 Spectacular tandem lifting
After arrival in Golling, the day was reserved for transferring the load for the next leg of the journey. To master the winding road from Golling to Steeg on Lake Hallstatt over the Gschütt Pass, the length of the rig had to be shortened to 40 metres. The load was transferred in a stone quarry with a spectacular tandem lift (involving one 120 tonne and one 90 tonne telescopic crane). The hull was freely suspended in a waiting position, while a small loader crane started stripping back the flatbed.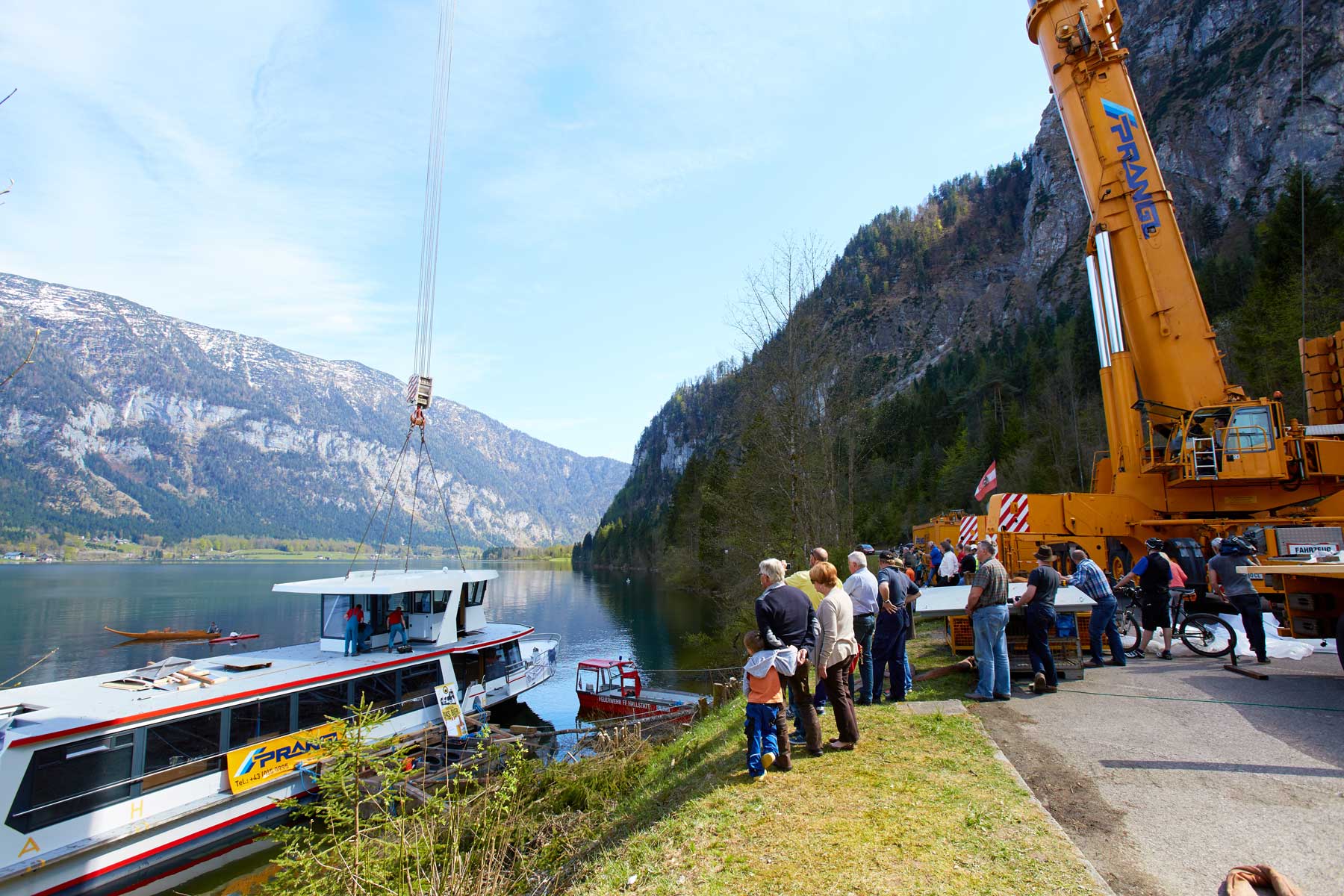 Causing a stir with the audience when unloading
After this extraordinary action, the special heavy-duty flatbed truck had the 40-metre length required for the mountain journey, and a height of 5.30 metres. With a low total weight of 144 tonnes, there was nothing to stop us getting through the pass. The convoy got underway in the night. After arrival, the ship, including the upper deck, was unloaded carefully while the street was closed. The impressive dimensions of the freight and of the equipment needed were anything but inconspicuous even at their destination.