January 2022
Test modules
Prangl was commissioned with the multimodal transport of a total of 12 high-tech test modules from Styria to England.
Country:
Austria – England
City:
Gersdorf/Mur – Dunton
Date:
17.01.2022 – 18.02.2022
Sales:
Jochen Schmidt
Fritz Hochstrasser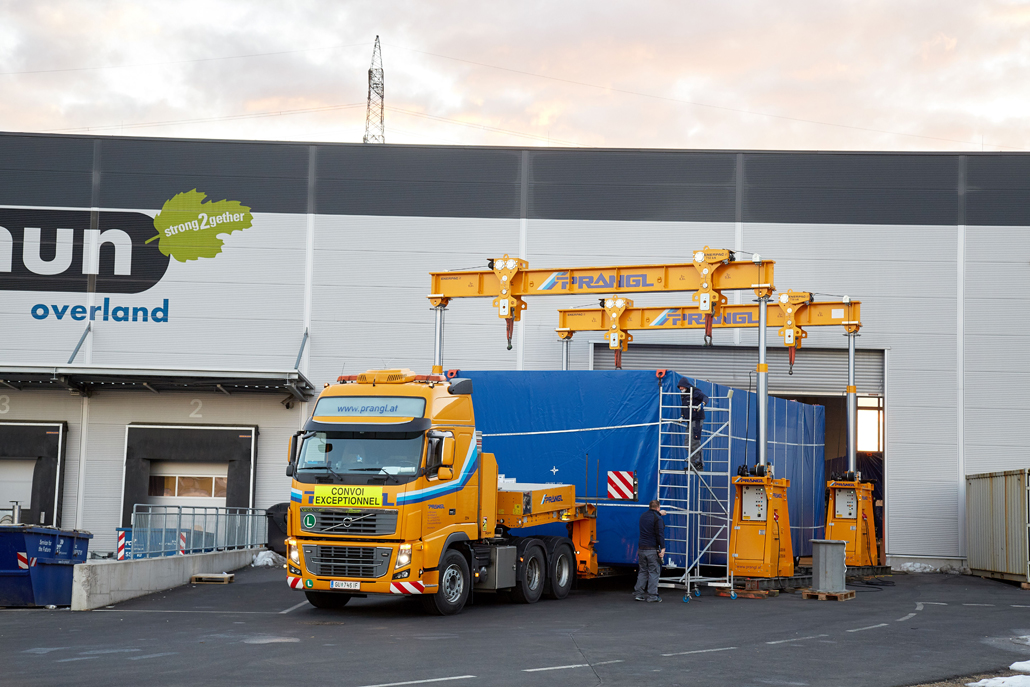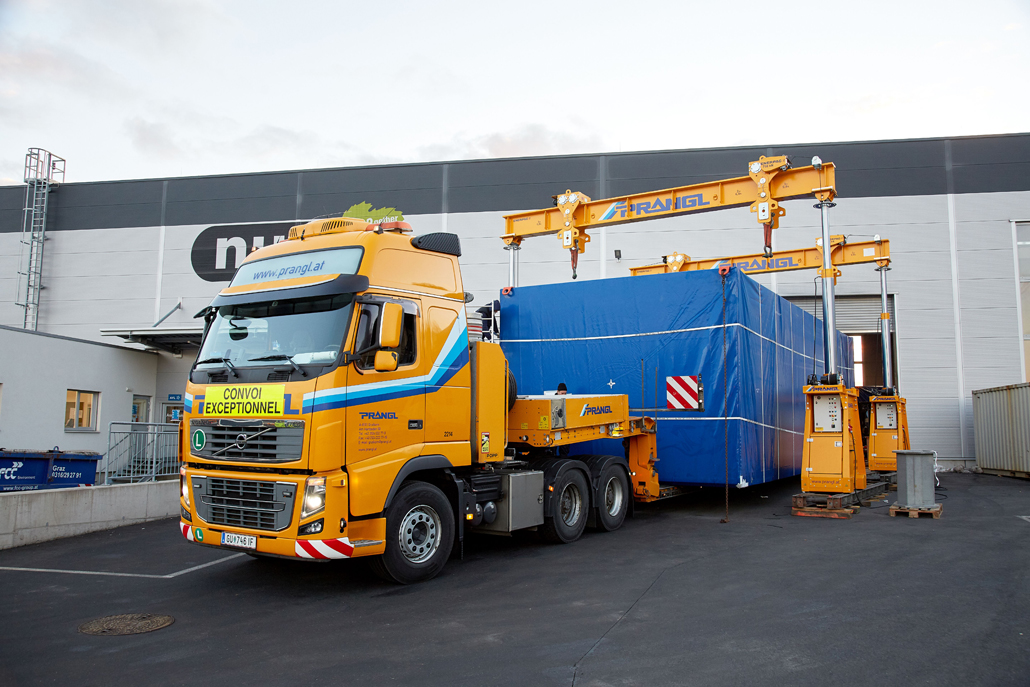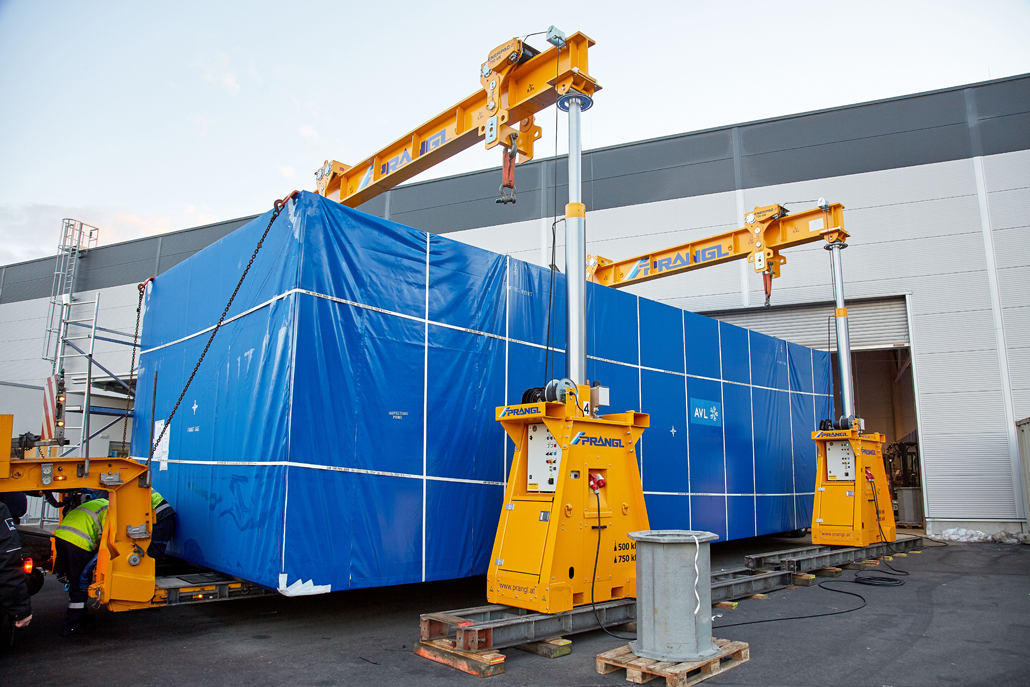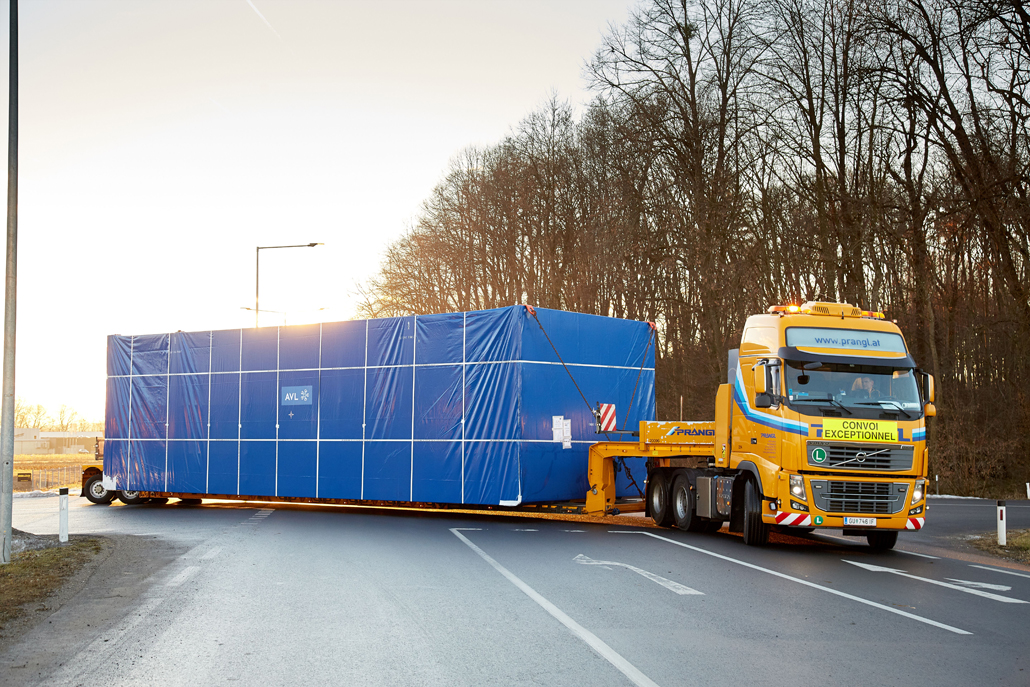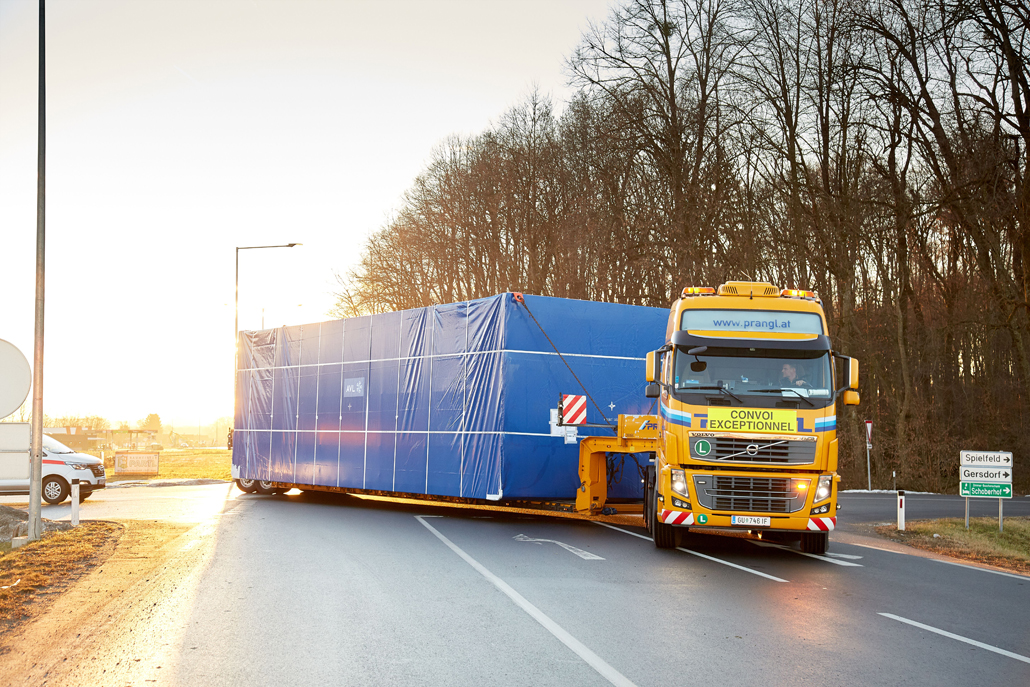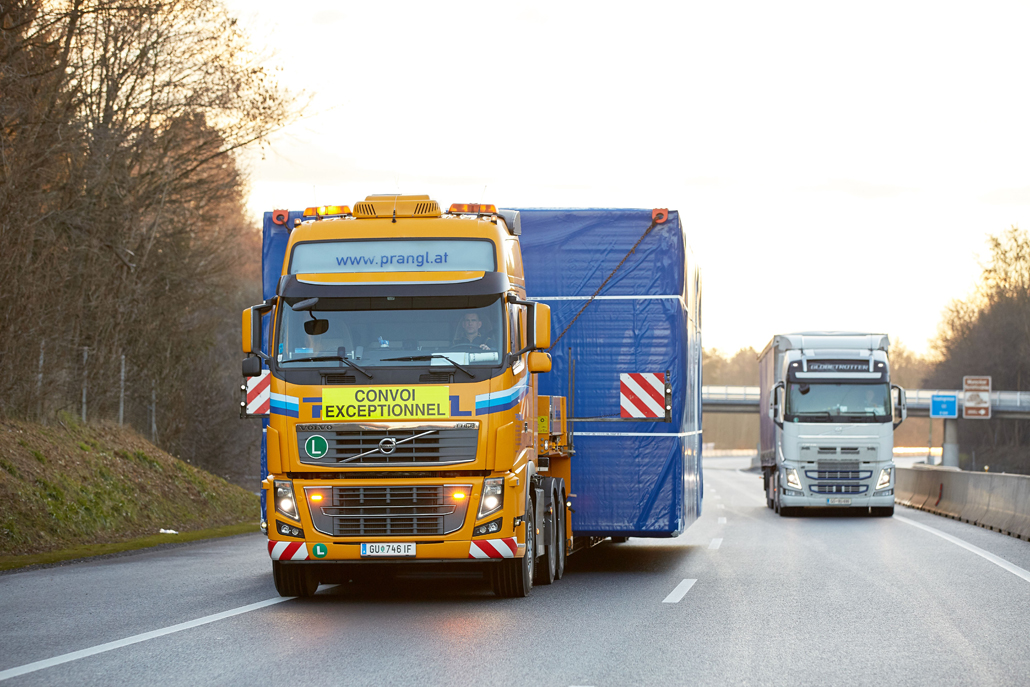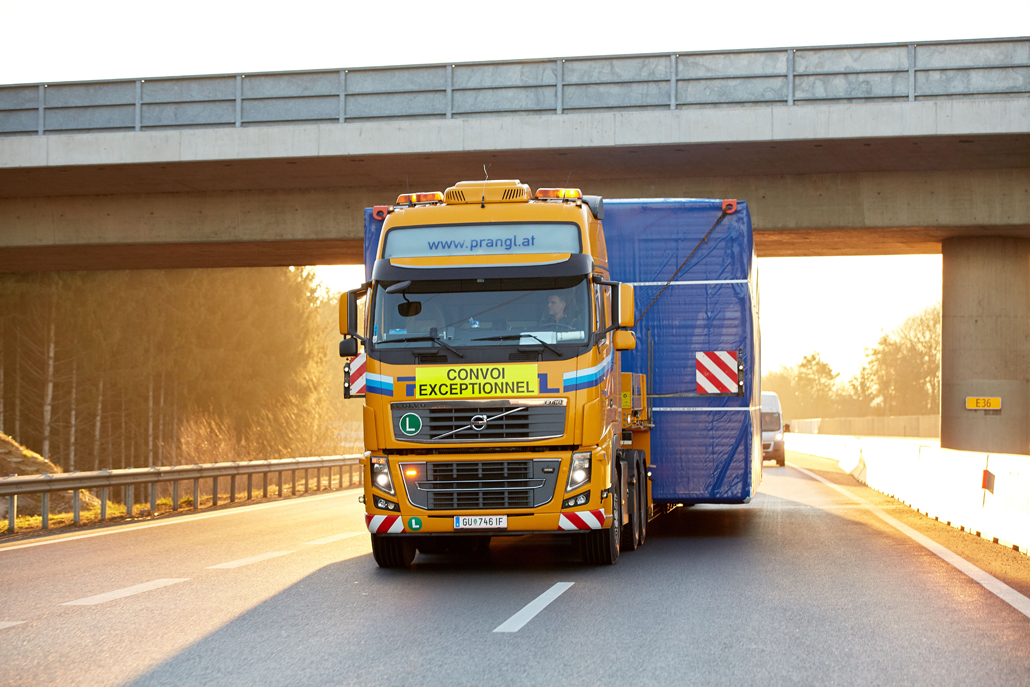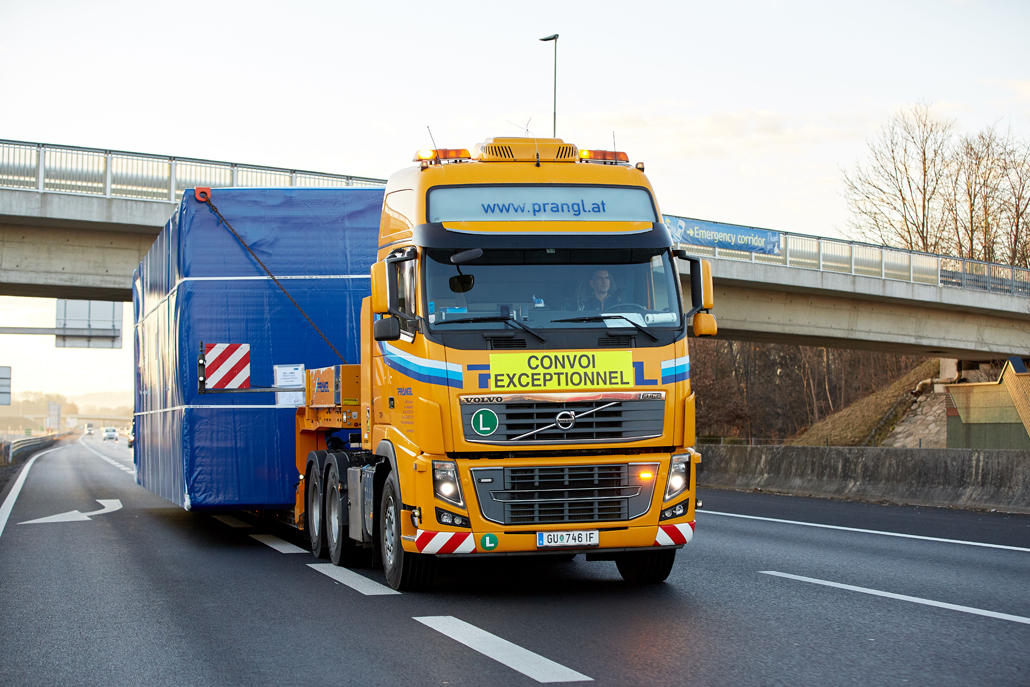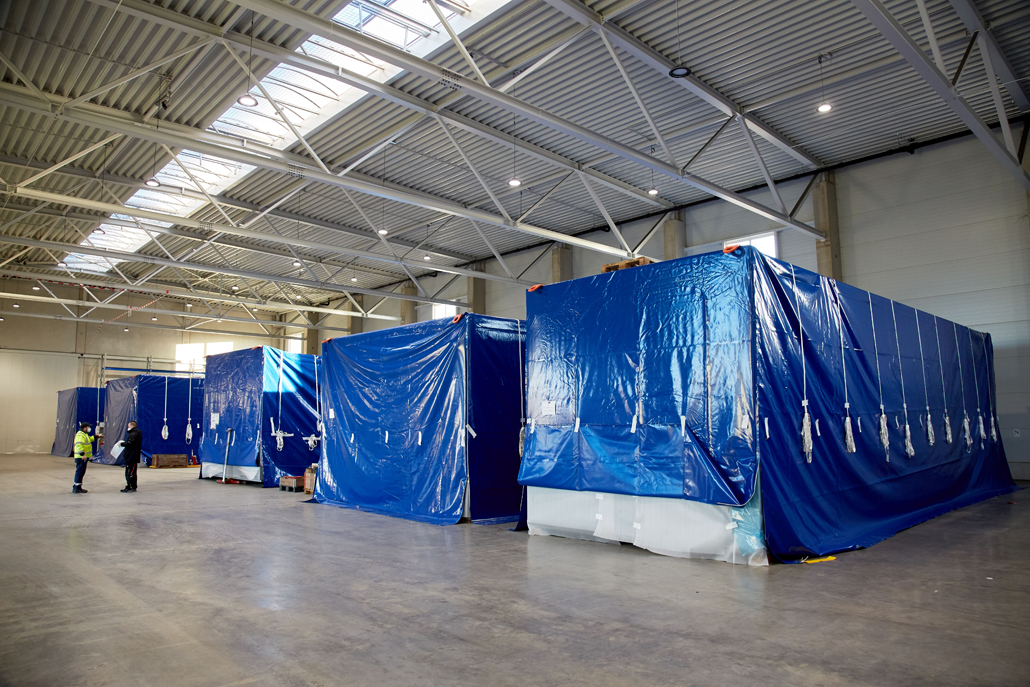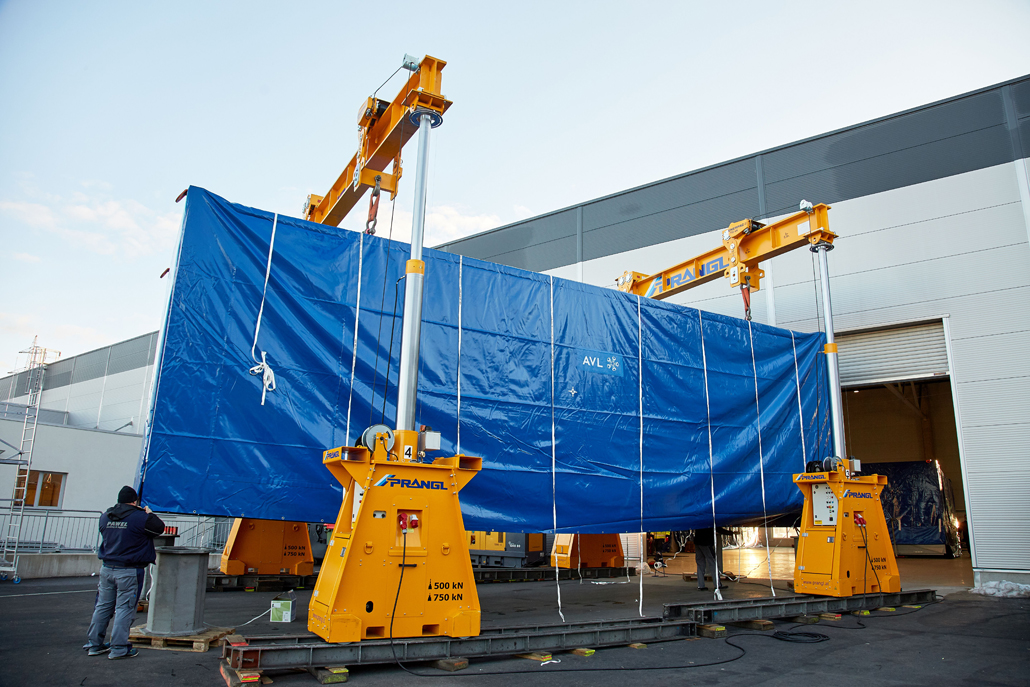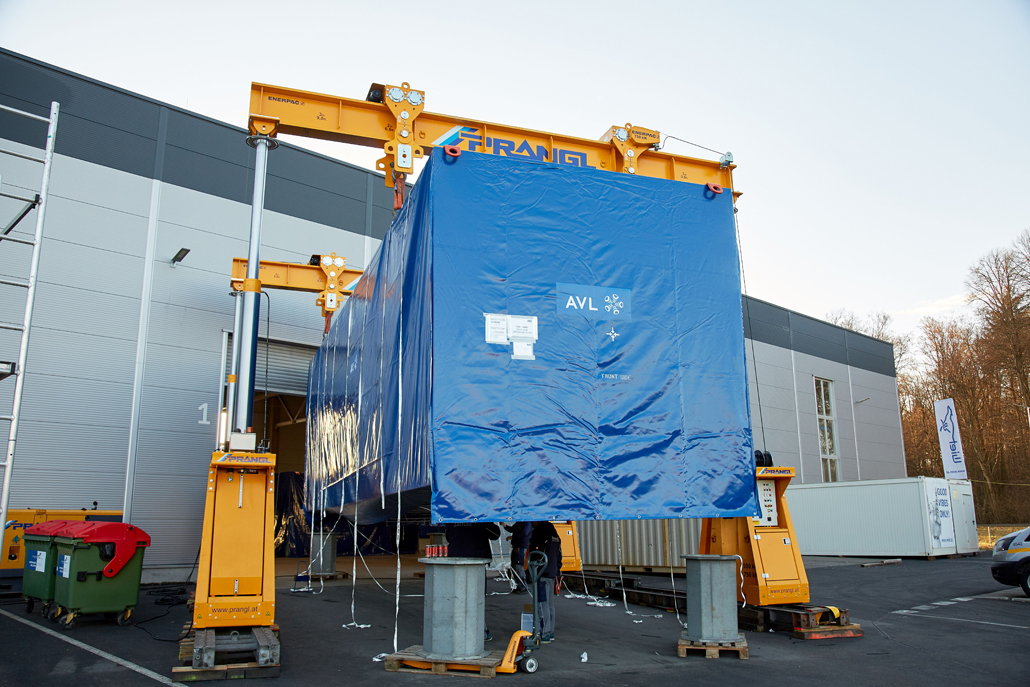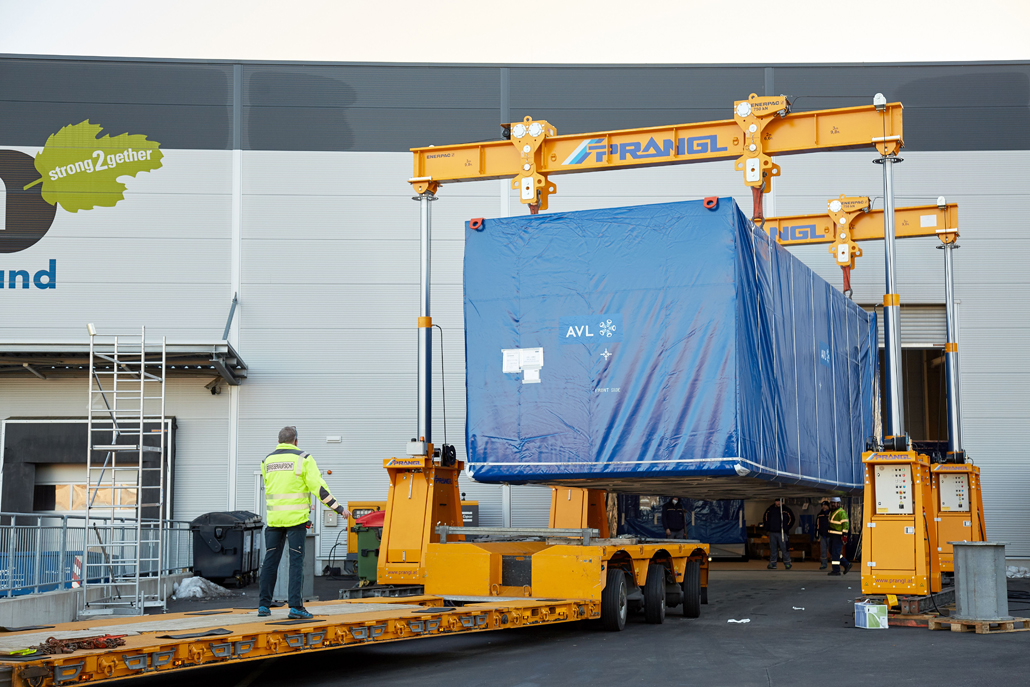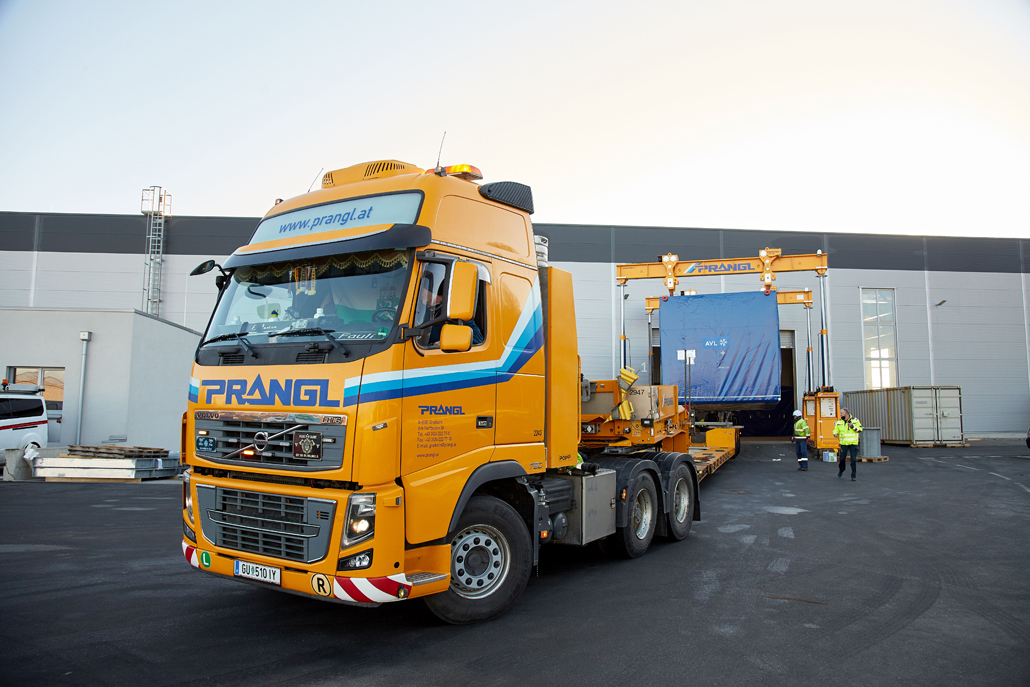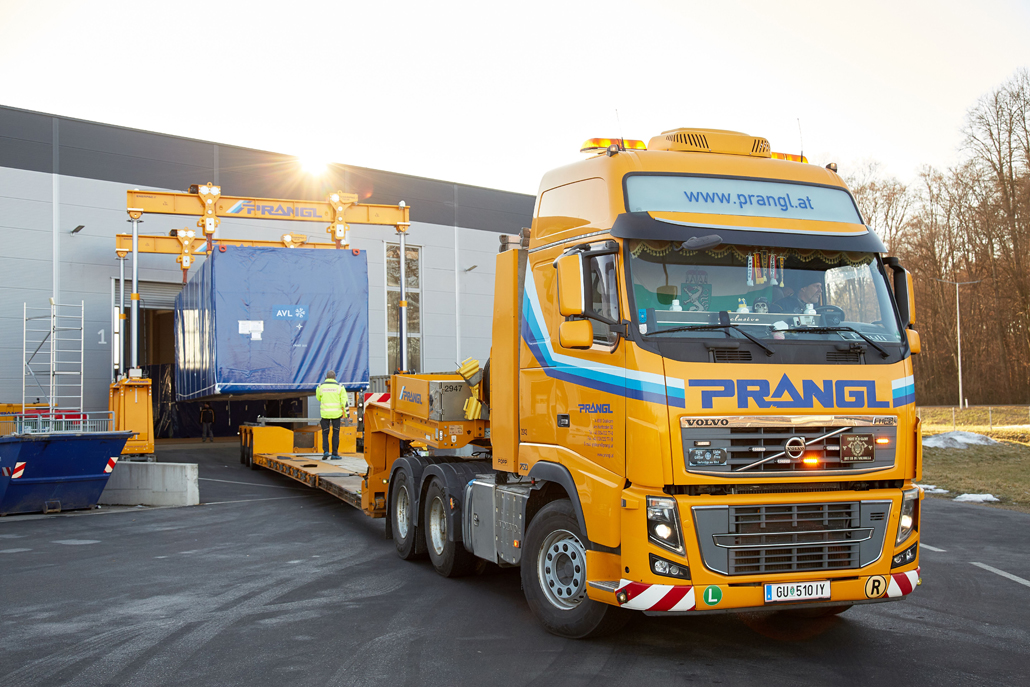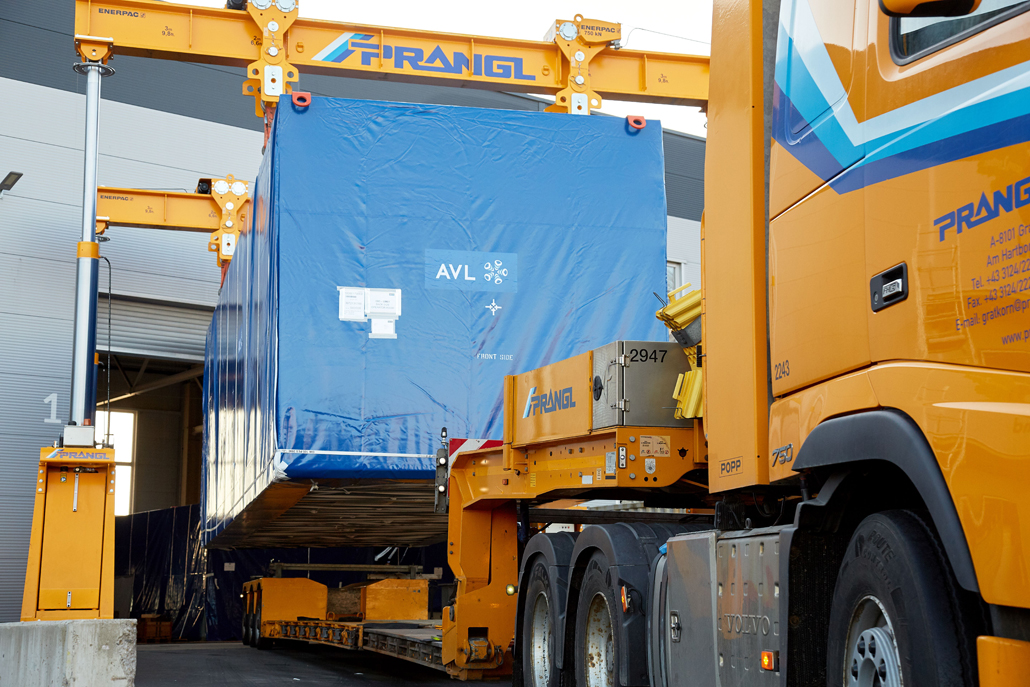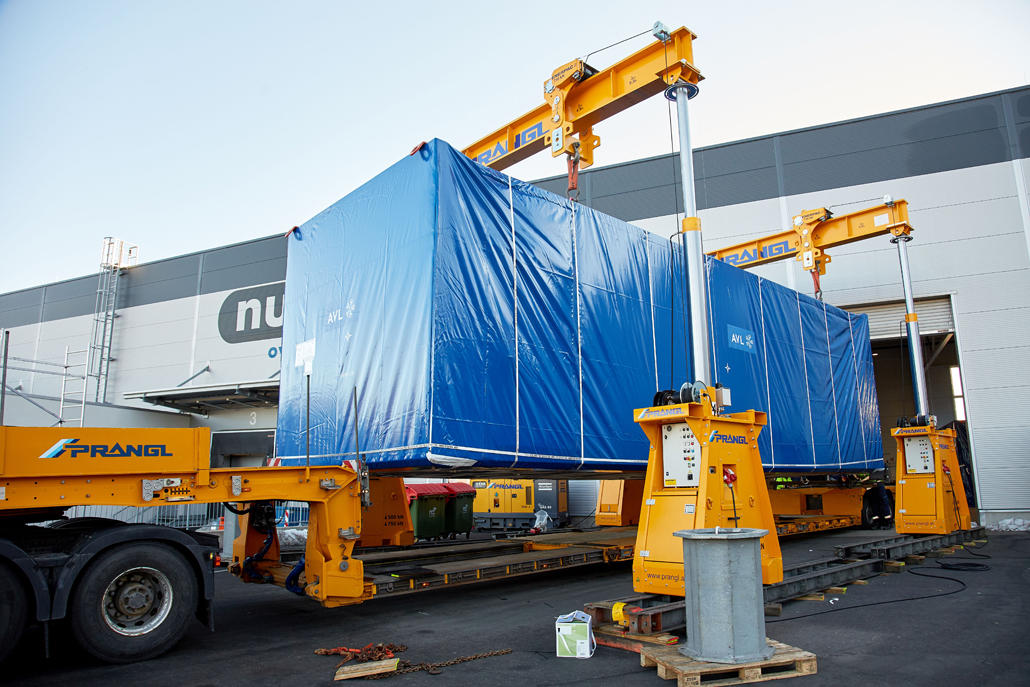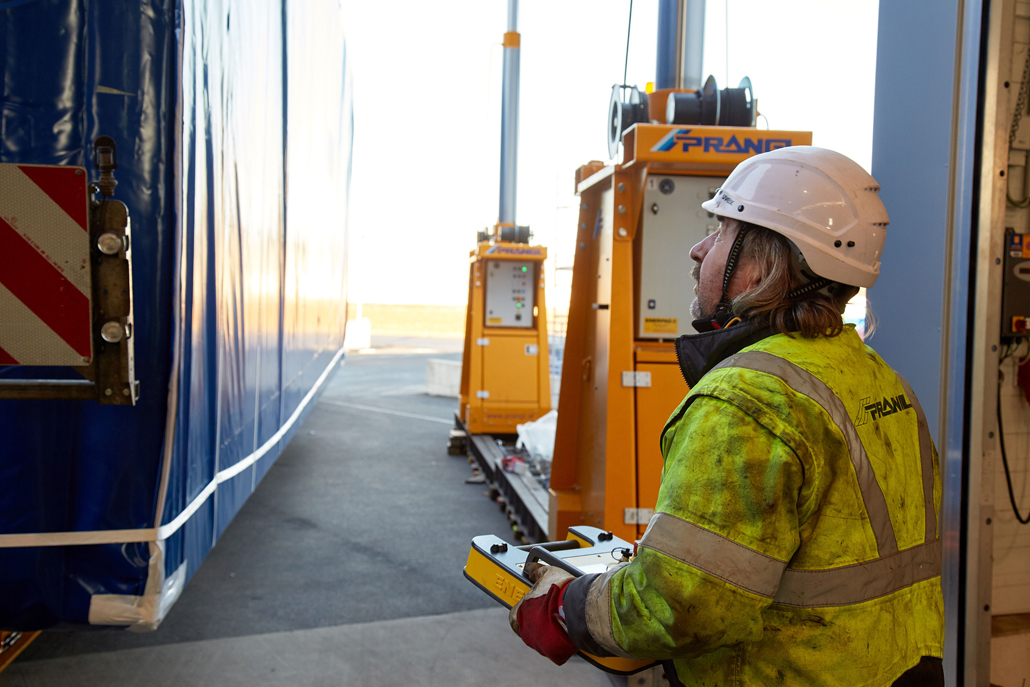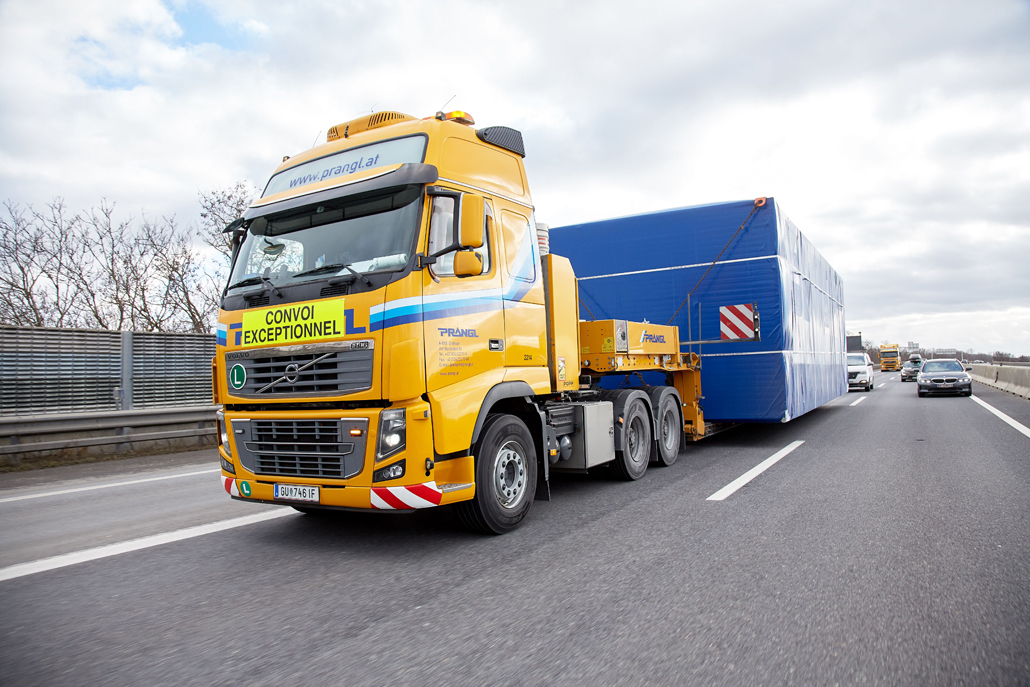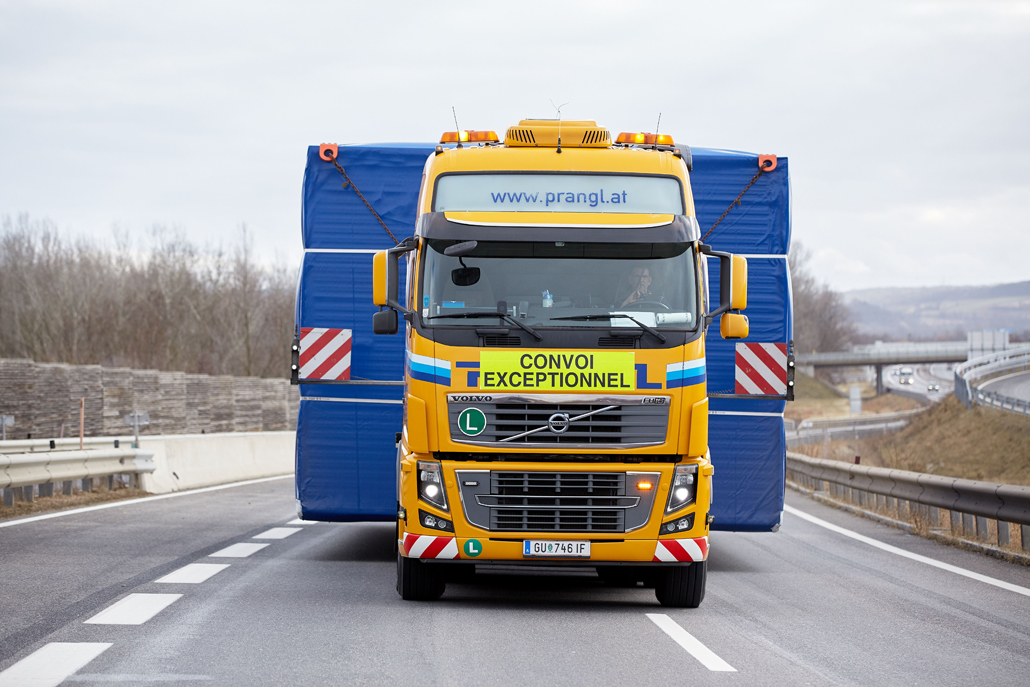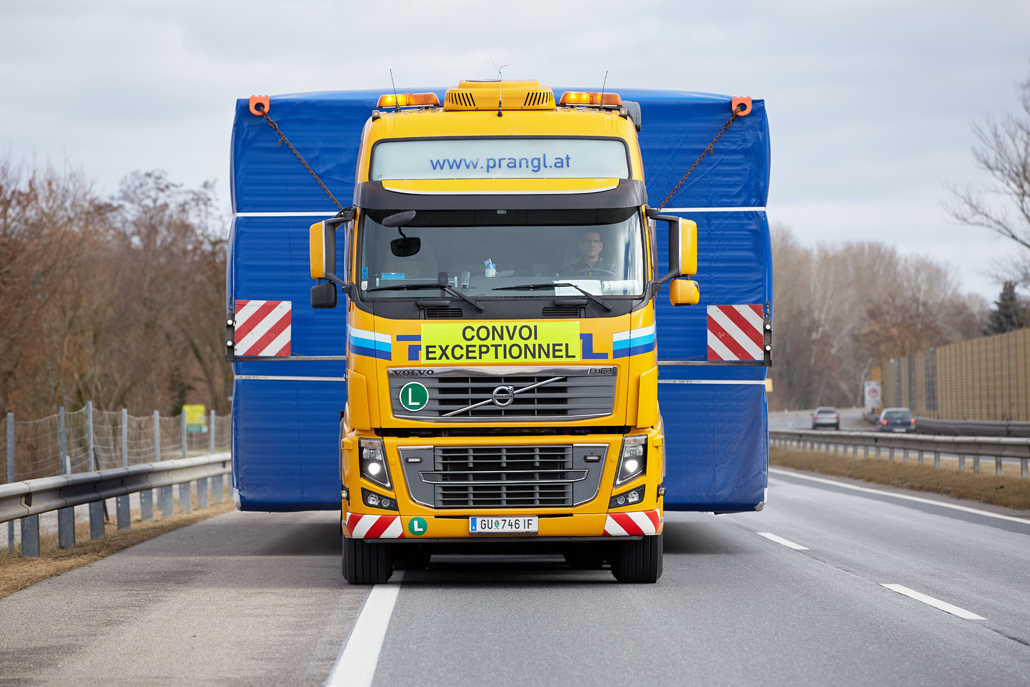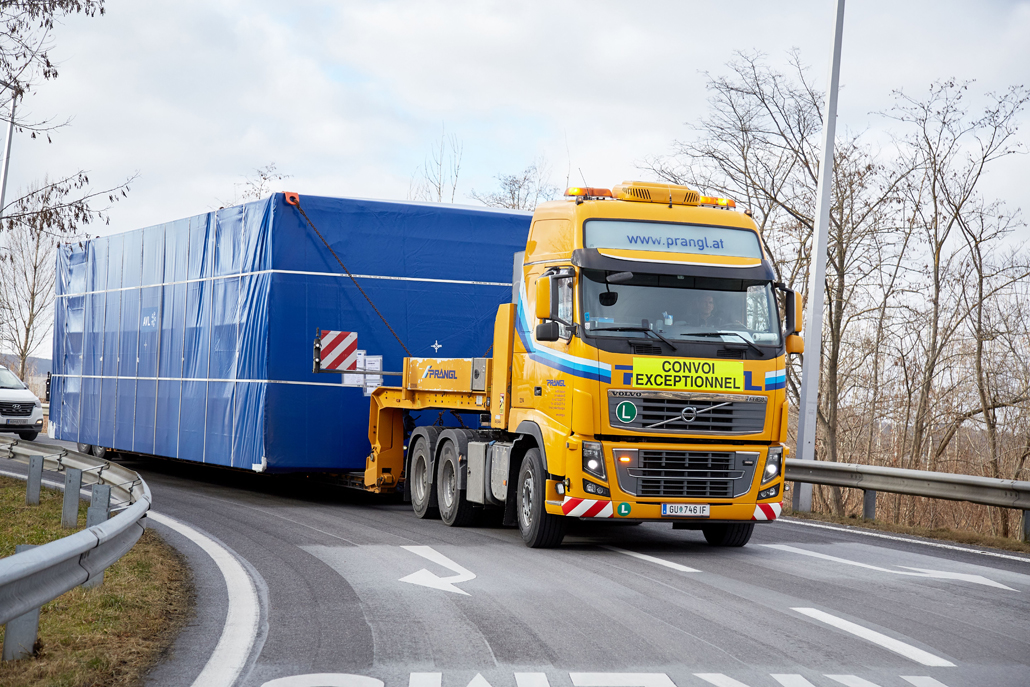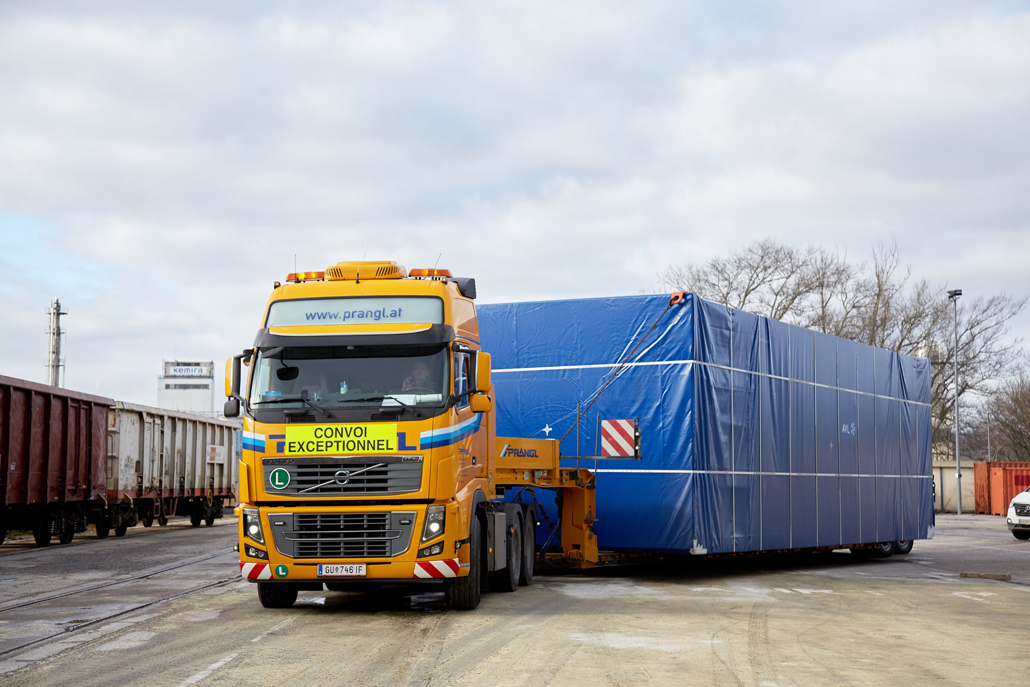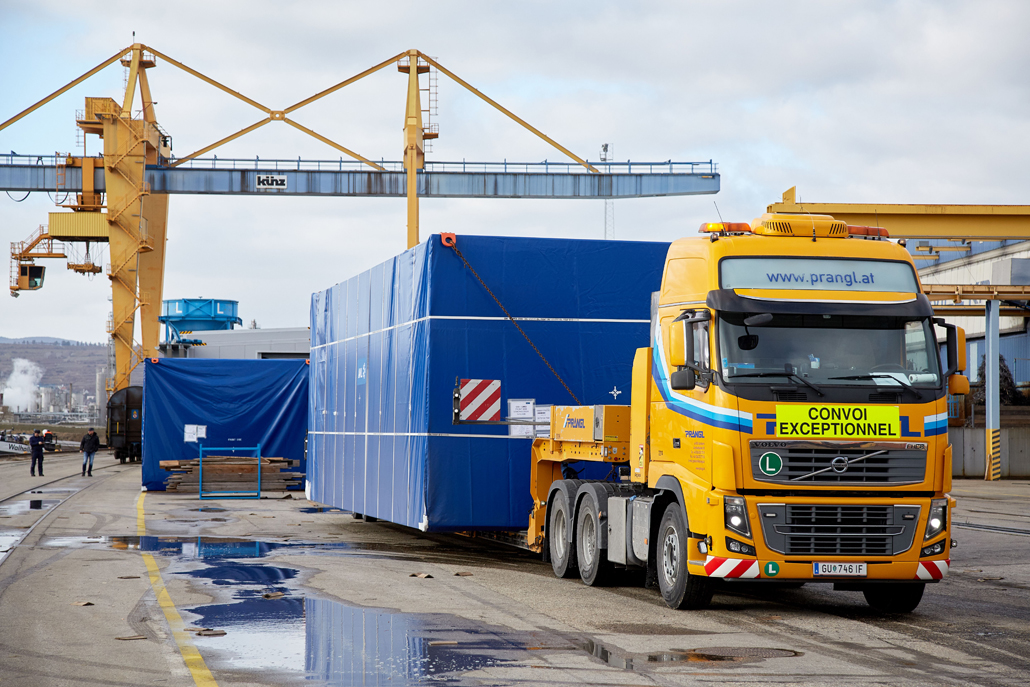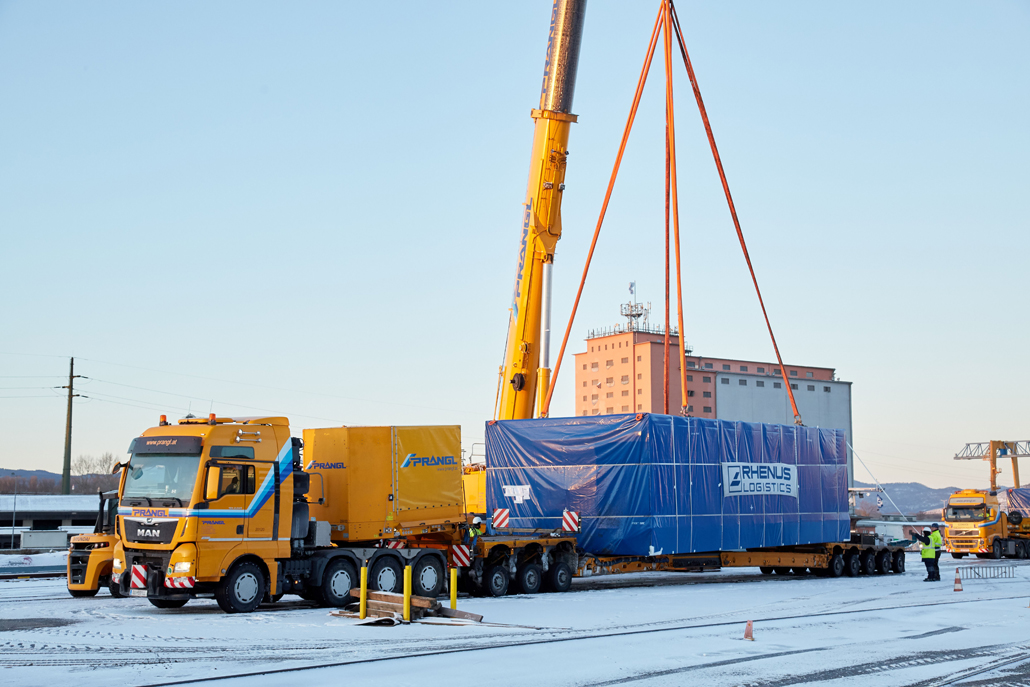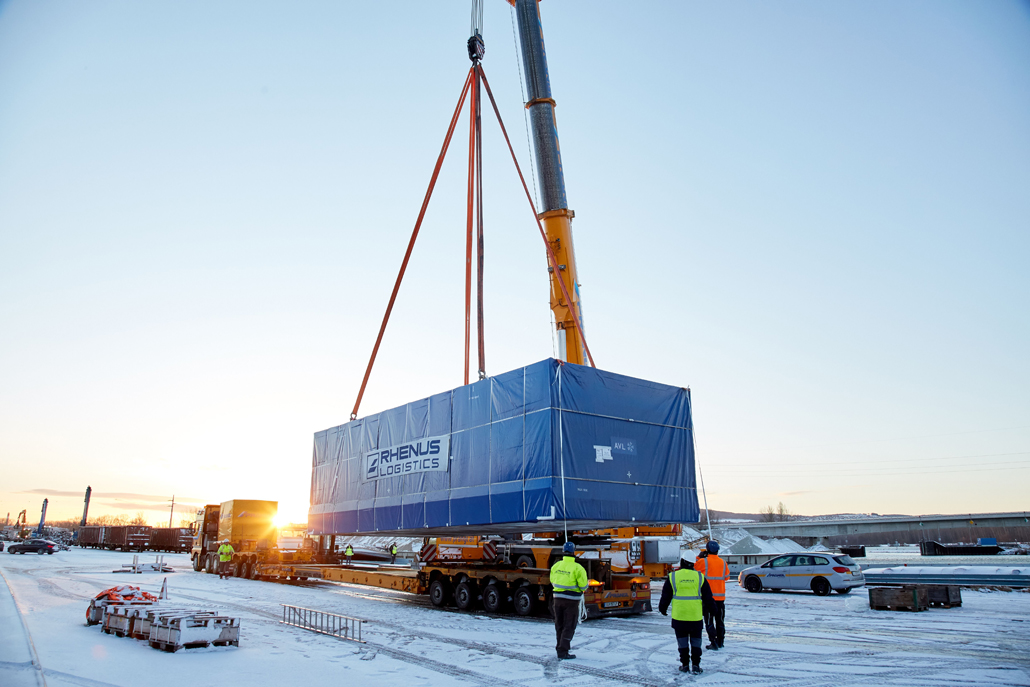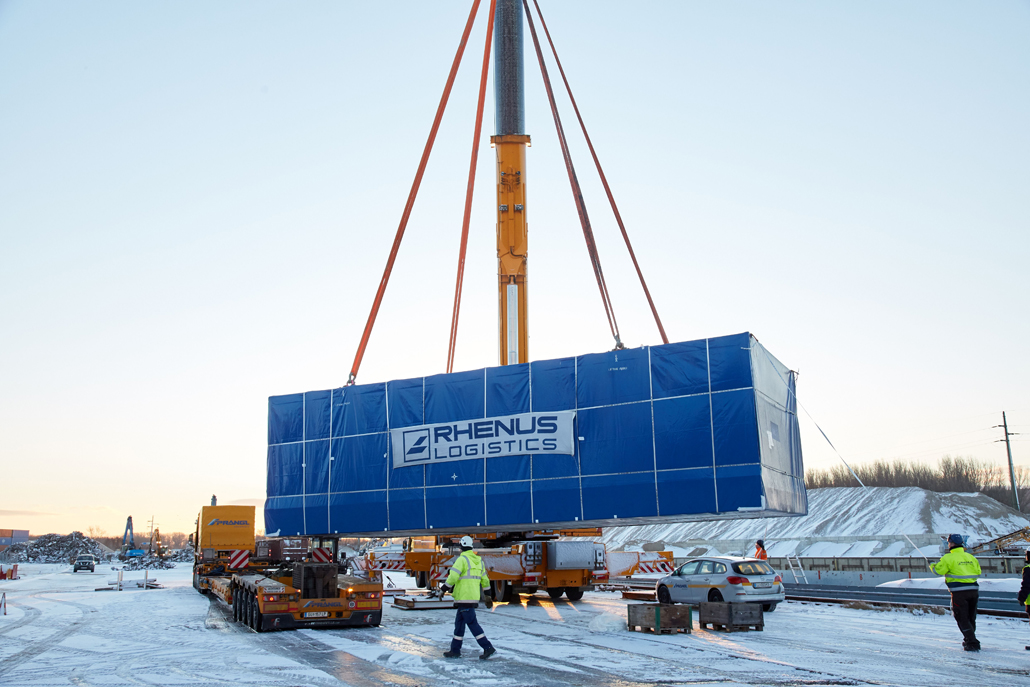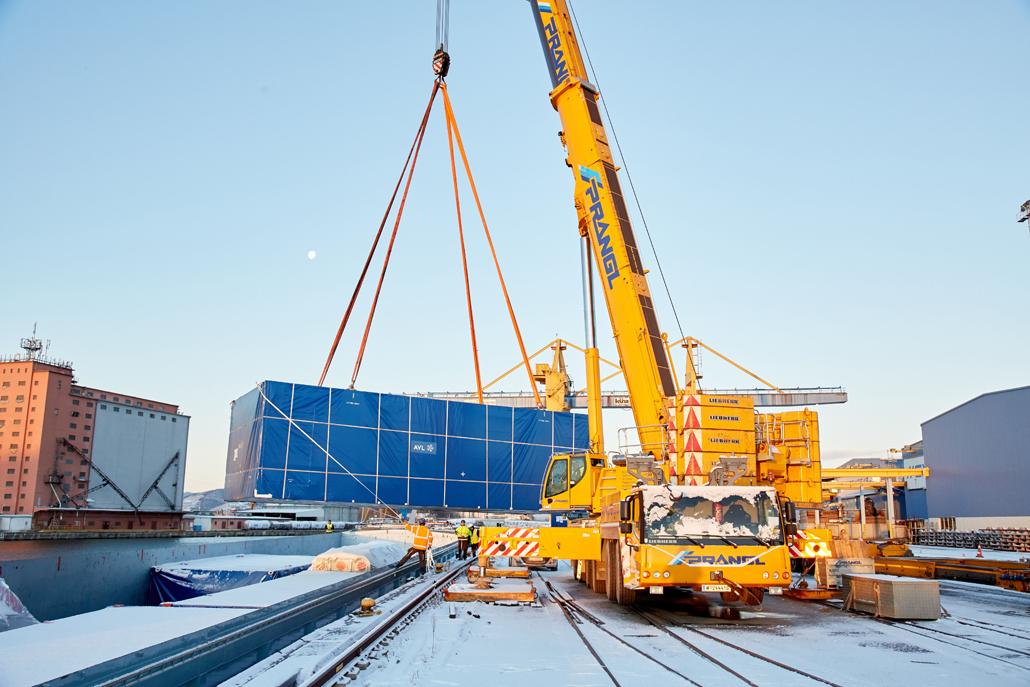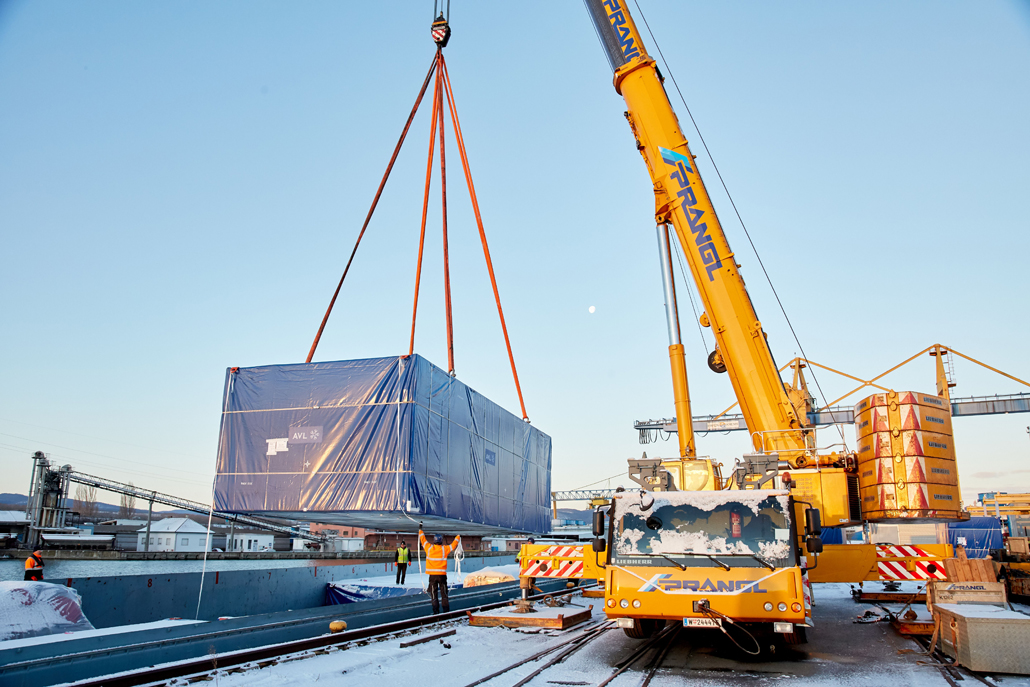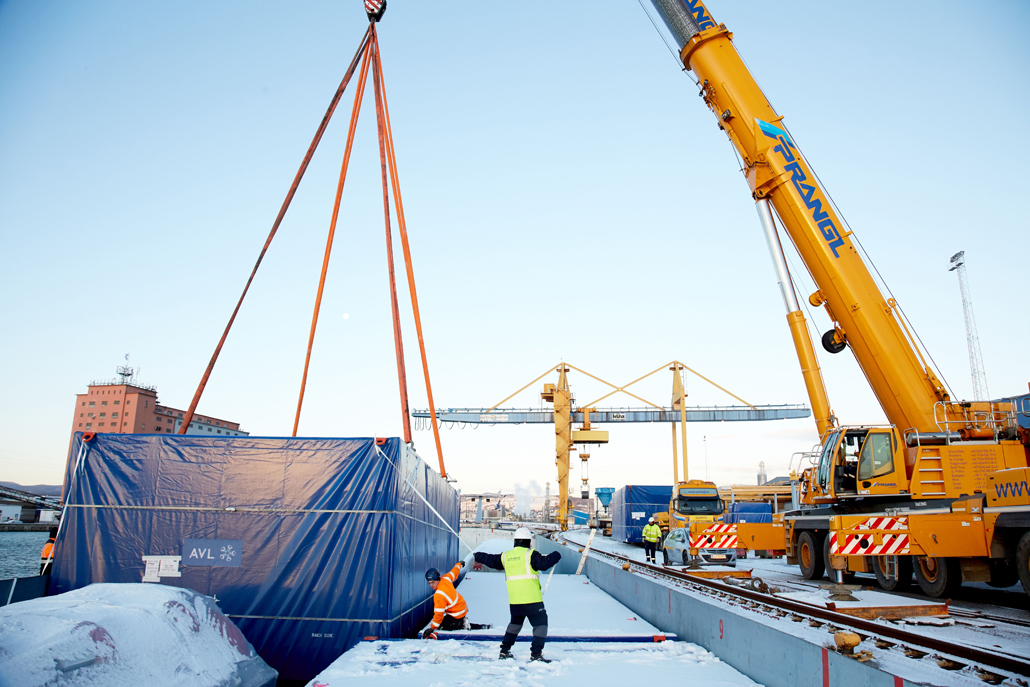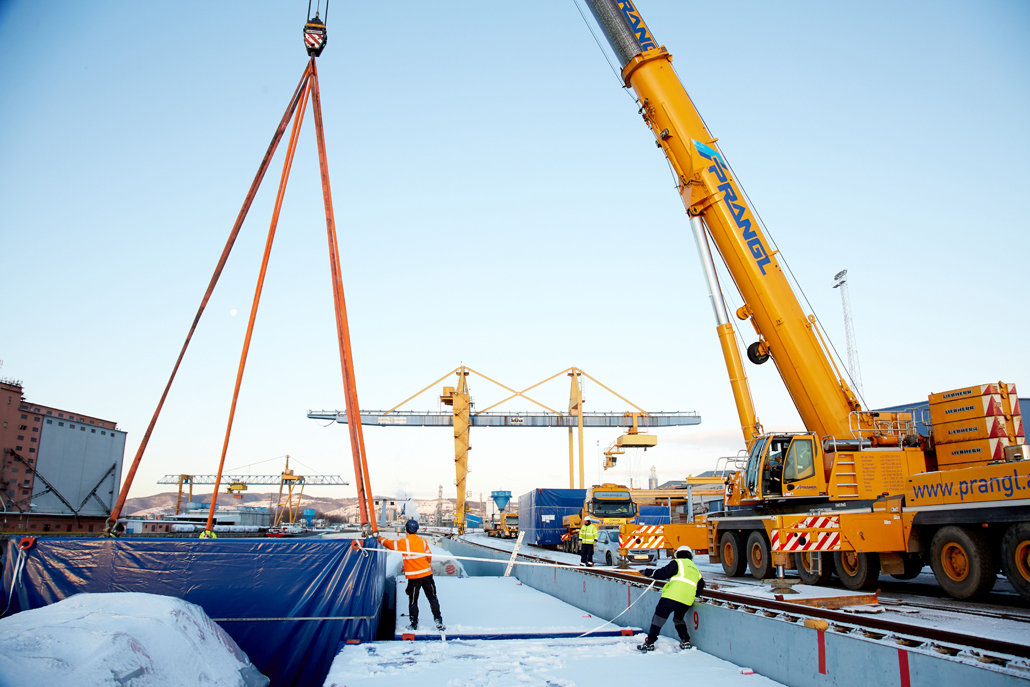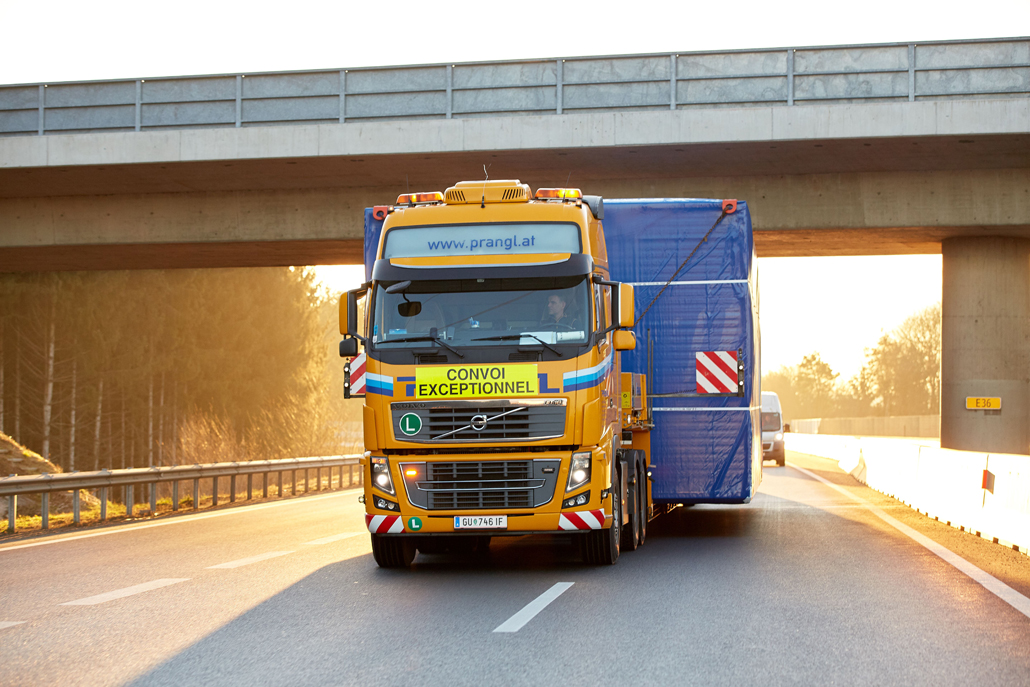 The challenge
Innovative concept for high-tech transport
The delivery of the delicate cargo from Austria to England for the automotive sector required a very special transport solution. Ultimately, the focus was not only on minimising the execution and cost risks for the customer, but also on its economic advantages.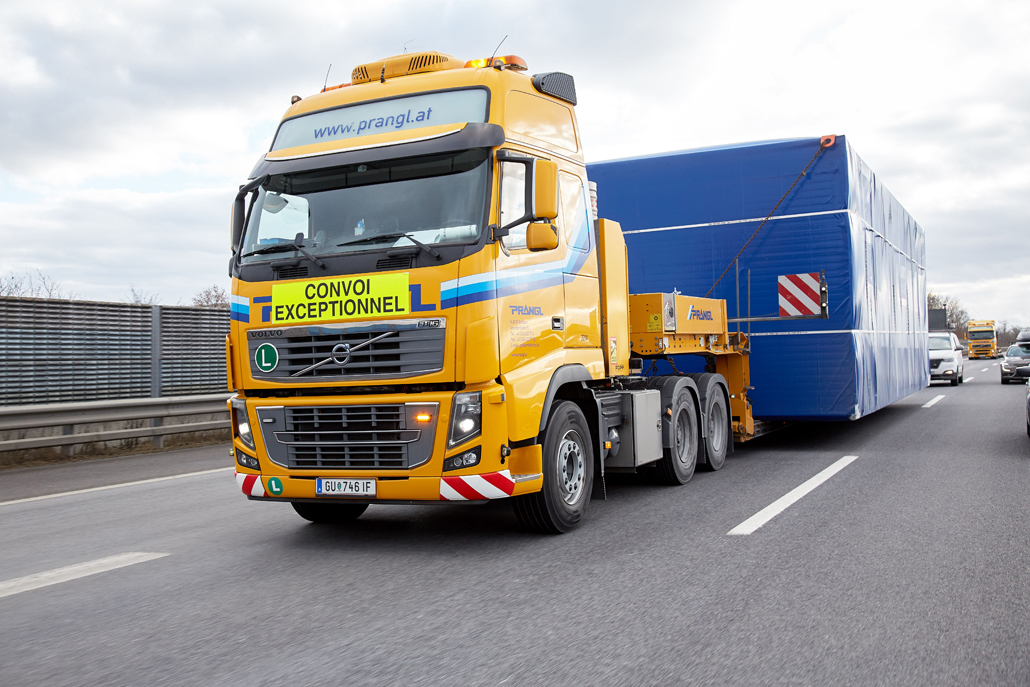 River barge favoured
Transports with a width of up to 5.60 metres are difficult to plan on the road over such a long route. And in this specific case, the road situation was complicated by road works and other obstacles, especially in Germany. Lastly, the route needed to be done twelve times. There was a threat of difficulties with approvals, long running times and high costs. With the alternative transport solution by water, a well-planned, cost-transparent and safe variant was found.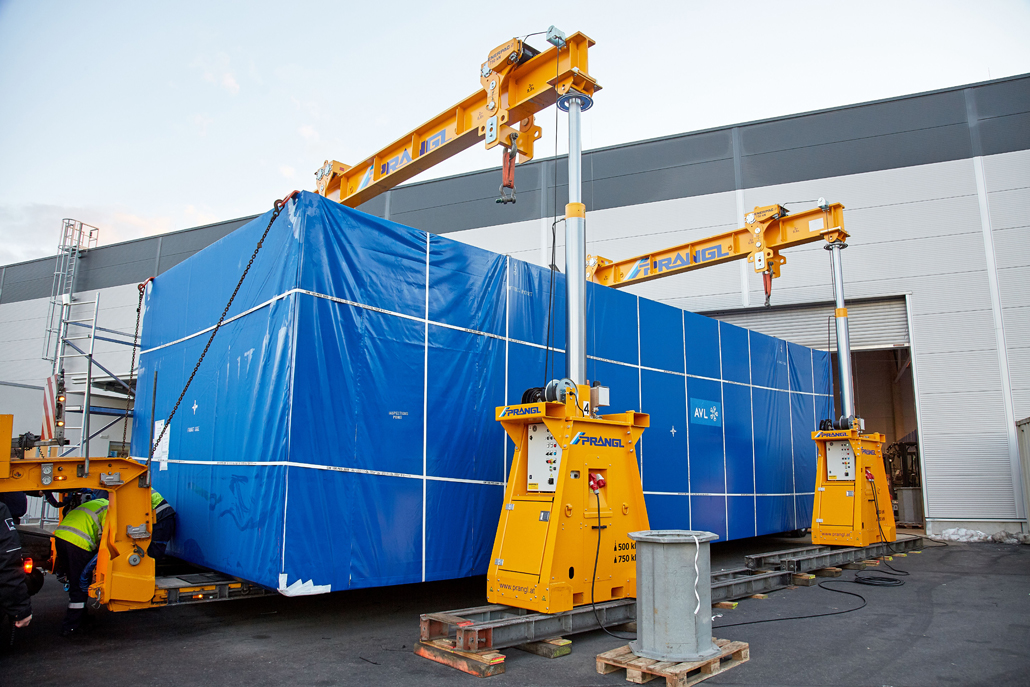 Loading and pre-carriage transport
The 12 modules (each 13.3 metres long, 4.1 to 5.6 metres wide, 3.6 to 4.0 metres high and weighing 17 to 58 tonnes) were brought out of the warehouse using heavy-duty rollers and hydraulic gantries in order to be loaded onto Prangl's special transport units. Optimal combinations of 3-axle and 4-axle tractor units with different trailers (2-axle, 3-axle, 2+4-axle low-bed semi-trailers, 3+5-axle vessel decks as well as 6-axle semi-trailers) were used for this pre-carriage transport in Austria in regards to the maximum possible dimensions.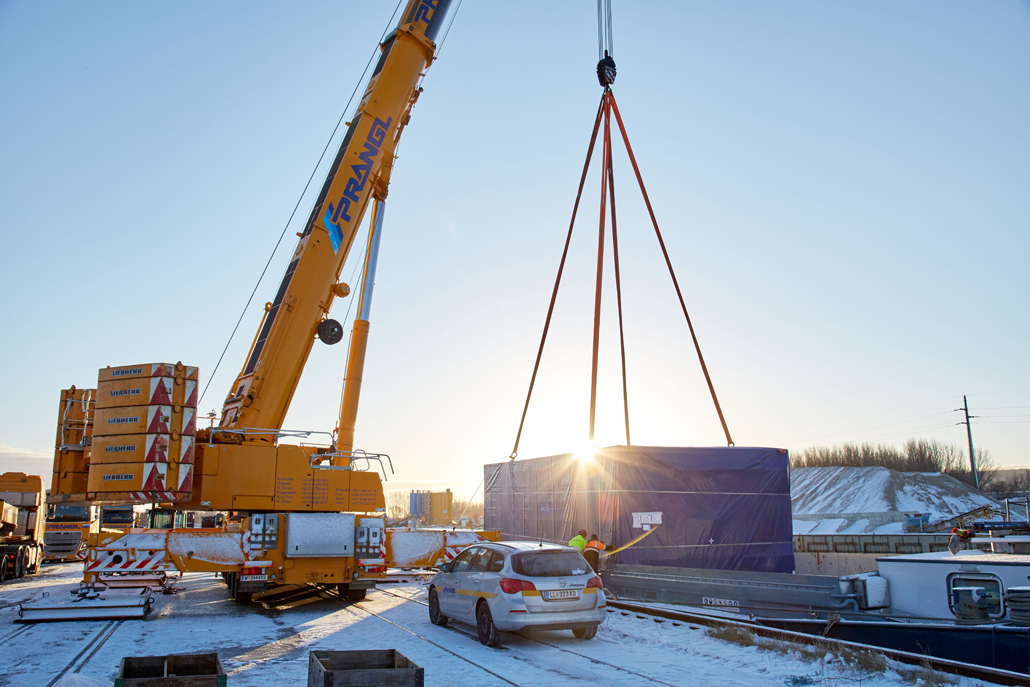 From the road to the ship
At the Danube port of Krems, the high-tech modules were awaited by a gantry crane and a 350-tonne mobile crane from Prangl and loaded onto a ship. Through optimal utilisation of the entire cargo hold, it was possible to make do with a single river barge - therefore not only a particularly economical concept, but also an environmentally friendly one. With all 12 test benches on board, the journey continued by water to the port of Antwerp. There, a change of ship took place to tackle the last stage to the destination port of Tilbury in England.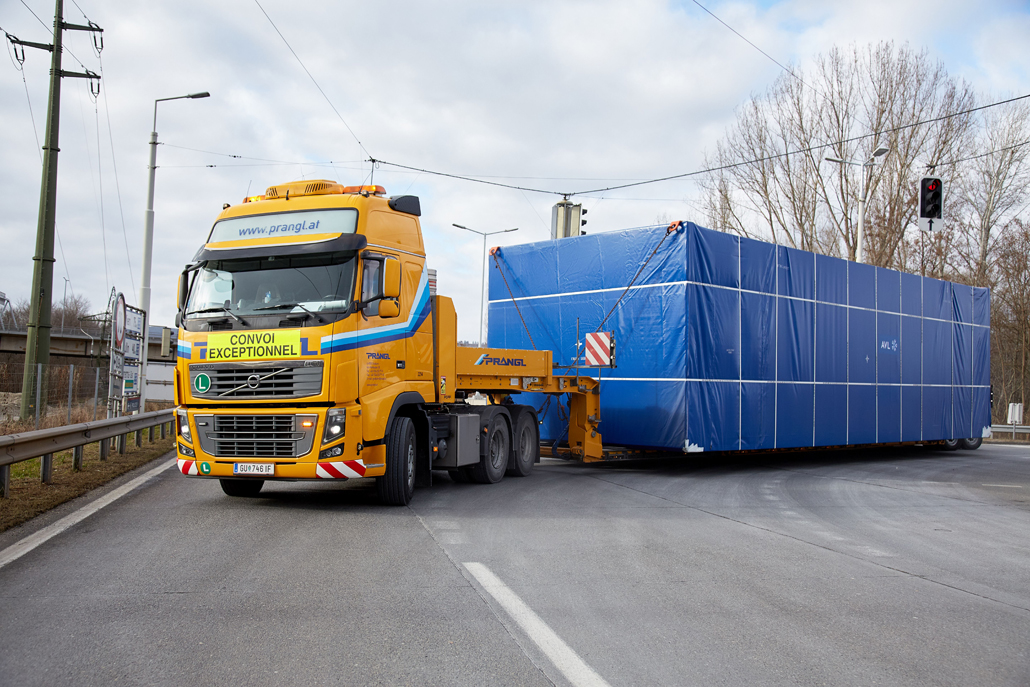 Post-carriage transport to Dunton
Because higher driving heights are permitted in England (whereas in Austria the 5.6 metre wide convoys were only 4.5 metres high, 4.8 metres are permitted in England), post-carriage transport from the port of Tilbury to the final destination of Dunton are carried out with semi-trailers. 3-axle, 6-axle and 8-axle semi-trailers are used together with the 3-axle and 4-axle tractor units. This saves on installation and removal costs for extension carriers on the low-bed vehicles, which also means a time advantage at the same time.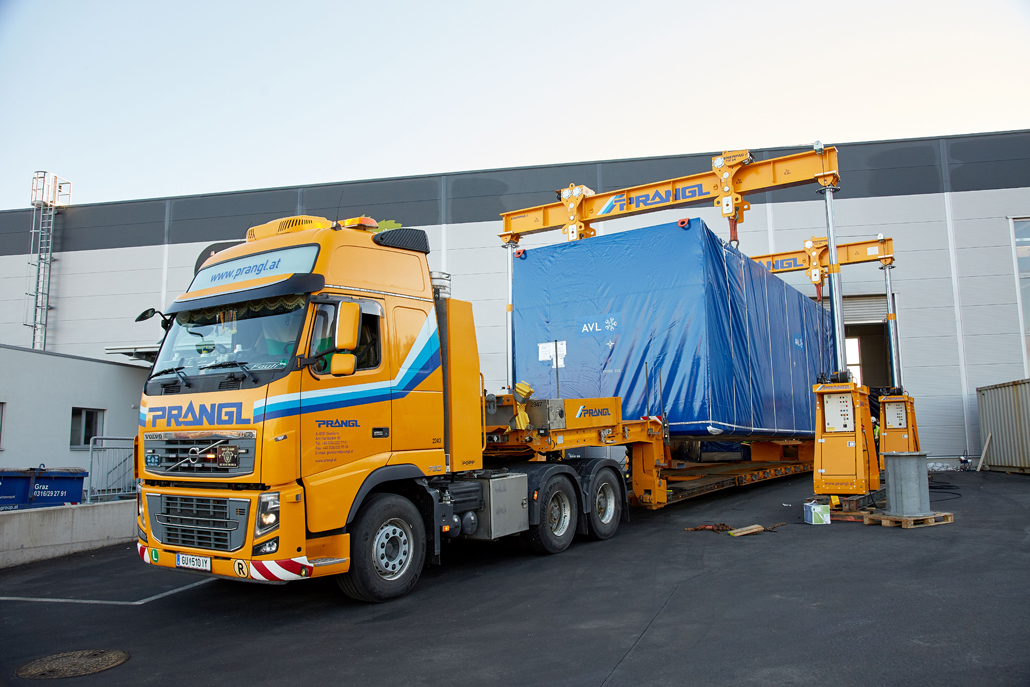 Scored with experience
In order to find the optimal solution, it is essential to consider all the options. Here the Prangl team was able to score with all its experience and, through meticulous pre-planning, present a detailed operation for the respective transport stages and modes of transport in advance. The innovative transport solution via river barge made it possible to minimise the execution and cost risks for the customer. Therefore, the most effective and economically appropriate concept could be created and the highest customer satisfaction achieved.

We don't just transport by road. We are also happy to take alternative routes for our customers.
Head of heavy-duty transportation and abnormal loads